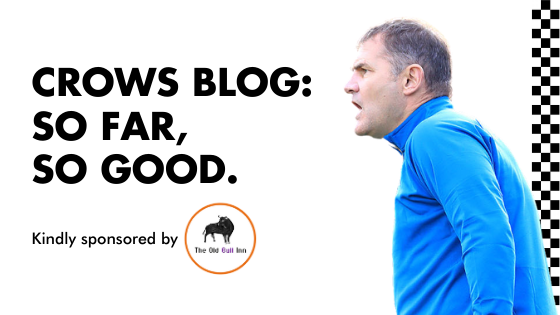 CROWS BLOG: So far, so good.
Hi everyone.
I hope you are all safe and well?
Slowly but surely we are getting back to normal. Let's hope it remains this way!
In regards to the football and our situation, it's a little bit more clearer in as much as we now have a start date and soon we will have the seasons fixtures. The senior squad have been back several weeks now and a have got a few games under our belts.
If you count Saturday as 2 games(45 mins each) we have played 5, won 4 and lost 1!
Of course, positive results are always nice but they are secondary to increased fitness levels and match sharpness but all the same positive outcomes gain confidence in not only the individual but us as a unit!
Also, which is most important of all is our new guys settling into the group as smoothly as possible and I think that has been achieved in a short space of time. Injuries are an issue and so far so good, only minor things at present.
I'm not sure if everyone was aware but the mini-tournament we played on Saturday, spectators were allowed in. It was good to see some familiar "Crows" down there!
I think everyone's ready for our season to get going. I really hope we can keep the momentum of what we achieved last year. The fans, the players, the club positivity was in an abundance. We need to make sure that we build on that to progress.
Anyway back to pre-season, our hardest match so far is coming up – Enfield on Tuesday. We played them last year and it was and will be, a good yardstick to measure where we are at this moment in time.
There are still a couple of weeks before we really start but so far, s0 good!
Cheers
Steve C
The CROWS BLOG is kindly sponsored by The Old Bull InnTHE OLD BULL INN, a traditional 16th-century inn,  is located at 56 High Street, Royston, SG8 9AW and is the perfect place for both rest and rejuvenation. Whether you are staying in one of their comfortable en-suite rooms, cosying up around the open fire with a drink, dining in their restaurant or hosting an event in one of their function rooms The Old Bull Inn is sure to exceed your expectations!