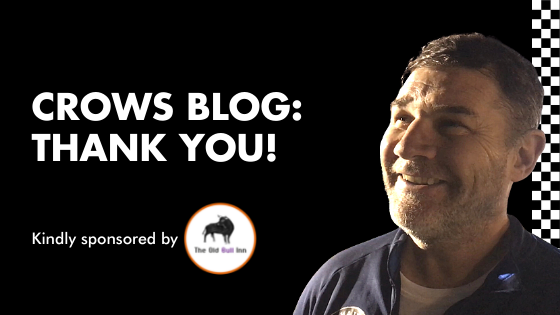 CROWS BLOG: THANK YOU!
Hi guys,
What a week last week was!
Unfortunately, by losing to Peterborough Sports on Saturday we couldn't finish it off in the way we wanted. It started well with a convincing away win at Hednesford Town last Saturday and then got even better on Tuesday night with the 2nd leg of the League Cup final where we finished off Taunton Town with a superb 5-0 victory!
Tuesday night really was a bit special – the crowd, the atmosphere, the scoreline but most of all the feeling of togetherness it brought to us all!
To get 1335 supporters there on a midweek night and to set a new attendance record for Garden Walk was amazing. The number of young fans we had there on a school night was amazing and I hope that everyone fully enjoyed it! It looked like they were having fun! I want to take this opportunity to thank everyone at the club who was involved in making Tuesday night such a memorable occasion for so many. The amount of work carried out by predominantly volunteers that goes on behind the scenes at a non-league club is not always recognised. From the stewards, the turnstile operators, the bar staff, the board and everyone else involved with the club I want to say 'Well done!'.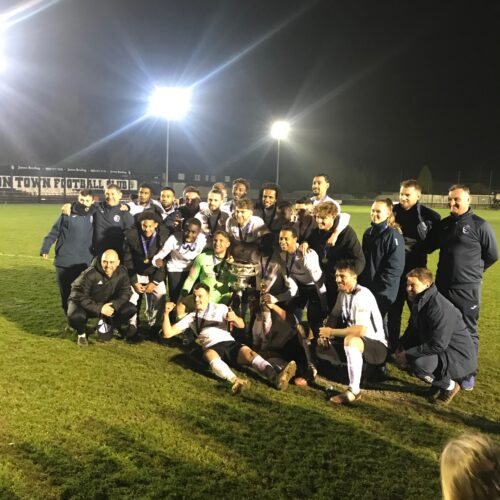 To touch on Saturday's result does bring the mood down slightly but hopefully not too much. For anyone who wasn't there, the facts are that they had 4 good scoring opportunities and we had 8! 2 goals for them but just the 1 from us. In my opinion Sports are not a better team than us but they were much more clinical which is disappointing from our view. This is definitely something we have to look at going forward.
I suppose we can't have everything going our way but in general, last week was a good week for us. Once again thanks for all your support. It's so appreciated by all of us staff and players! And to all of those who came along last Tuesday to see us lift the League Cup but don't normally come along to Garden Walk – we'd love to see you back at a game your support makes a huge difference to the players and the Club.
Cheers,
Steve C
The CROWS BLOG is kindly sponsored by THE OLD BULL INN, a traditional 16th-century inn,  located at 56 High Street, Royston, SG8 9AW and is the perfect place for both rest and rejuvenation. Whether you are staying in one of their comfortable en-suite rooms, cosying up around the open fire with a drink, dining in their restaurant or hosting an event in one of their function rooms The Old Bull Inn is sure to exceed your expectations!