THANK YOU ROYSTON!
THANK YOU ROYSTON!
On behalf of everyone at Royston Town FC, I'd like to say a massive thank you to all of those people in Royston and beyond who made a special effort to support the team in our League Cup Final 2nd Leg on Tuesday night. Your amazing support cheered us on to a great and historic victory and helped us set a new attendance record of 1,335!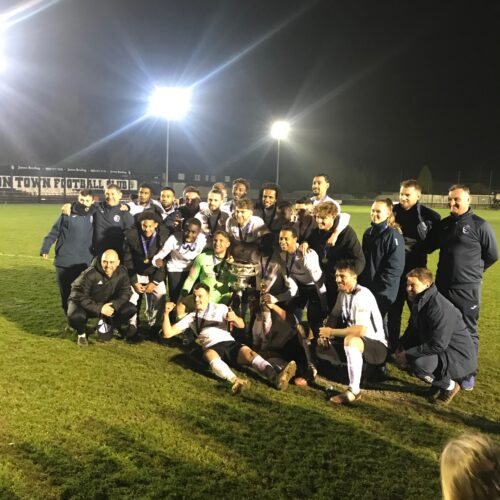 Your support was fantastic and created a very special and unforgettable atmosphere. I know that the players really appreciated your support as did the Management team, the Board members and all of our volunteers and staff. It was great to see the community come out and support THEIR club. The record attendance pushed our resources to the limit but in true Royston style, nobody moaned they just enjoyed the occasion. We thank you all for your patience on Tuesday evening from queuing to get into the ground and also at the bar, food truck and other facilities.
I'd also like to pay tribute to all of our young fans, including the numerous members of Royston Town Youth FC,  who came along you were all amazing. I'm pretty sure that The Brian Racher Stand is still shaking from all the noise and great atmosphere you created. To the parents and guardians – apologies for the late bedtime on a school night but hopefully, your kids had a night that will live long in their memories!
We have another big game this Saturday at Garden Walk when the Crows take on high flying Peterborough Sports in the league so I hope to see as many of you as possible down there to cheer us on.
Thanks again for your support on Tuesday night and as always, COME ON YOU CROWS!
Alan Barlow, 
Club President