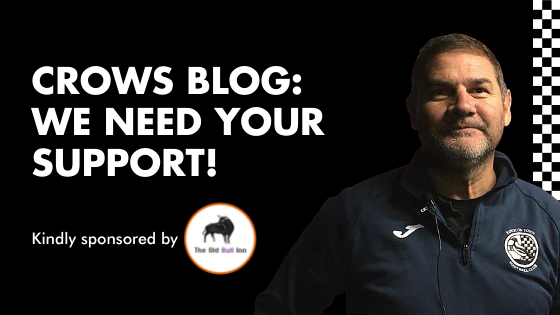 CROWS BLOG: WE NEED YOUR SUPPORT!
Hi guys,
Just a quick note to remind everyone, in the unlikely event that you'd forgotten, that we have a big game at Garden Walk on Tuesday night when we host Taunton Town in the return leg of the League Cup Final. It would be great we can get a big gate at our big game! If you are able to attend then please do so and bring your kids or mates along too!
The support down in Taunton last Tuesday was tremendous and really helped make the tie! I know that I speak for the staff and team when I say that our travelling support was fantastic throughout the game. We really appreciated the effort that you all made in travelling down and in some cases staying overnight in Taunton. You guys never stopped singing and cheering the whole time. Your support can really make a difference to the lads.
On Friday I popped into King James Academy to visit a few classes and give an assembly. It was an absolute pleasure to see all the kids and staff. Thank you to you all for such a great welcome.
And now for a brief mention about the playing side,  our form has improved of late and we are determined to finish the season with a flourish. Everyone wants to achieve an as high as possible League position and win the League Cup. Your help and vocal support could make all the difference and would, as always, be much appreciated by all of us!
Up the Crows!!!!
See you Tuesday!
Steve C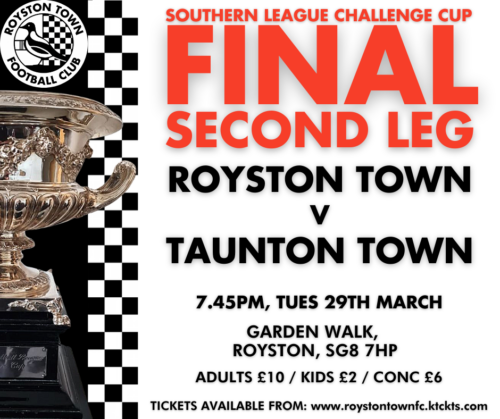 Tickets for Tuesday's League Cup Final 2nd Leg can be purchased either on the Gate or online HERE
The CROWS BLOG is kindly sponsored by THE OLD BULL INN, a traditional 16th-century inn,  located at 56 High Street, Royston, SG8 9AW and is the perfect place for both rest and rejuvenation. Whether you are staying in one of their comfortable en-suite rooms, cosying up around the open fire with a drink, dining in their restaurant or hosting an event in one of their function rooms The Old Bull Inn is sure to exceed your expectations!