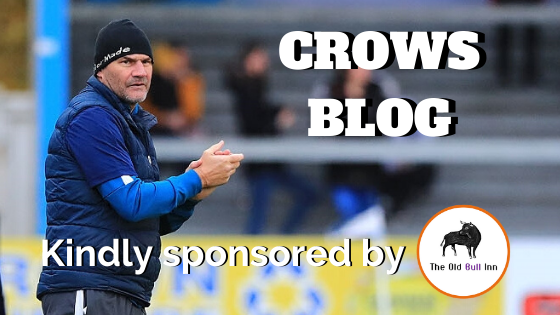 CROWS BLOG: The Crows keep marching on!
The CROWS BLOG is kindly sponsored by The Old Bull Inn
CROWS BLOG: The Crows keep marching on!
Hi,
Well, the boys keep on doing it! That's 12 weeks now and just one loss in those 12 weeks. That's amazing form and an amazing achievement at whatever level! It has certainly put us back into the mix in regards to the playoffs and possible promotion.
The start we made in yesterday's game against Coalville Town wasn't good enough from us. Why? I honestly couldn't tell you other than I thought that our approach was a little sloppy.  We always have a generic start, high tempo, direct and forward. I do believe that most teams try to start in a similar way. More often than not we do start well but yesterday I felt that we tried to play a little too intricately and in the wrong areas. One possible reason is that the boys were maybe 'over-confident'. Generally, this isn't an issue but when it's not quite going our way, it can put the opposition on the front foot and leave us struggling a wee bit.
It was a period in which we rode our luck a bit but after Muzza's opener, we suddenly relaxed a little and then added a fantastic second goal from Matt Bateman to put us in control. From there on in it was a great performance. Ben Martin adding another 2 goals to give us a great and deserved 4-0 lead. If there was any negative then it was the one goal we conceded near the end of the game. I know that might be a bit harsh but these players have set themselves such high standards that even a consolation goal for the home team is not good enough.
Overall though what an incredible time it is to be involved with Royston Town FC. As we continue our push for the playoffs it'd be great to see the town really get behind us. I know I've said it before but the atmosphere and support that a big gate at Garden Walk really does make a difference for the players and so I look forward to seeing you all next Saturday when we host Banbury United.
Cheers
Steve C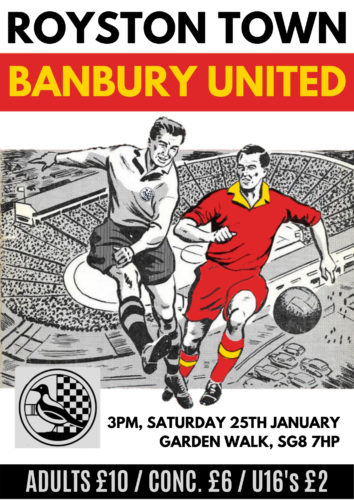 THE OLD BULL INN, a traditional 16th-century inn,  is located at 56 High Street, Royston, SG8 9AW and is the perfect place for both rest and rejuvenation. Whether you are staying in one of their comfortable en-suite rooms, cosying up around the open fire with a drink, dining in their restaurant or hosting an event in one of their function rooms The Old Bull Inn is sure to exceed your expectations!