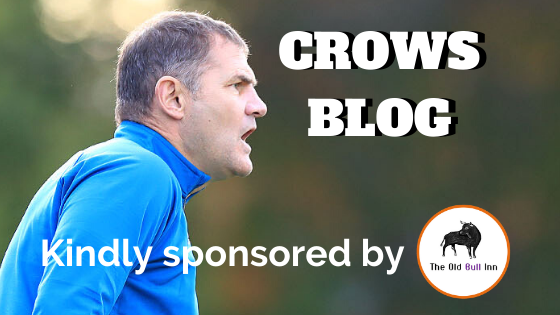 CROWS BLOG: Trophy glory!
The CROWS BLOG is kindly sponsored by The Old Bull Inn
CROWS BLOG: Trophy glory!
Hello,
We had a tough match versus Brightlingsea Regent yesterday, with us eventually coming out as winners in a tight match according to the scoreline but in truth, it was more convincing than the score suggests.
We had to make a few forced changes to the line-up from the St Ives game – Harold Joseph was unavailable due to being cup-tied and Ben Martin was missing due to personal issues. Other than that, the same.
We were in control and clearly on top but with us continually conceding free-kicks it gave our opponents an opportunity to put the ball into dangerous areas on numerous occasions. We went ahead by a fine passage of play by us, Matt Bateman coolly taking the ball into a goal-scoring position but then, quite rightly, passed to Adam Watkins who very calmly dispatched to put us 1-0 up!
As previously said, conceded free kicks led to a corner for our hosts and then a penalty was given to them allowing them to go into the half time break level. We were obviously frustrated at not being in the lead and knowing that we could have and should have been ahead.
I can't remember them having many opportunities to score in the 2nd half but we were also not making clear progress ourselves, other than a couple of chances that their goalkeeper dealt with well.
I did feel that a winner was coming but it could also have been a replay. As a manager, and it might just be me,  but I did fear that there was a 'sucker punch' coming. An unfair goal for them but on this occasion, it was us that came out with a little bit of quality to secure the win. A great and well-deserved finish by Josh Castiglione and I don't think there could have been any complaints from our opponents.
Taking everything into consideration, the weather, an away game,  and at times our sloppy play made the encounter harder than probably what it really needed to be, but we're through to the next round and that's the main thing!
We're back to League action on Tuesday night with a very tough home match against Needham Market. Overall, they certainly got the better of us last year but hopefully, this season will be different.
Our cup exploits mean that we have games in hand and if we can win them then it puts us right back into where we want to be, competing at the top!!
Cheers
Steve C
THE OLD BULL INN, a traditional 16th-century inn,  is located at 56 High Street, Royston, SG8 9AW and is the perfect place for both rest and rejuvenation. Whether you are staying in one of their comfortable en-suite rooms, cosying up around the open fire with a drink, dining in their restaurant or hosting an event in one of their function rooms The Old Bull Inn is sure to exceed your expectations!