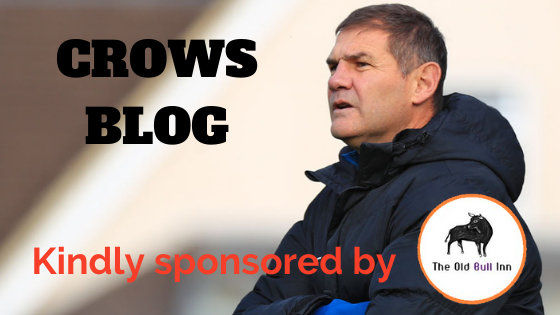 CROWS BLOG: Onwards and upwards!
The CROWS BLOG is kindly sponsored by The Old Bull Inn
CROWS BLOG: Onwards and upwards!
Hi,
Well, the players gave us staff the best response possible last night at St. Ives by showing a positive attitude and a firm determination to win a game of football. A superb 4-0 win against our local rivals, to get us back on a positive vein of form.
The most pleasing aspect of tonight's showing was the whole group's ability to put behind them their individual and collective disappointments and to push on regardless of circumstances. With no disrespect intended,  St. Ives were slightly below their normal performance levels due to injuries to a lot of their players but we still had to be patient to get ourselves in front in the 2nd half and then push on to secure a convincing 4-0 victory!
 Last night we went a bit more 'back to basics' in our approach towards the game. We implemented a simple formation and easy to follow instructions. I think the boys appreciated that and they thrived and played some really good forward-thinking moves that created loads of goal scoring opportunities. It wasn't quite happening at first but it did eventually led to 4 good goals.
Looking at the bigger picture over the last few weeks, it's certainly been a bit of a rollercoaster with so many positives for the club in general. We recorded our best ever attendance, our longest run in the FA Cup ever and had an all-round solid enough start in the League, that,  as in previous years, is proving a tough task. Unlike previous seasons, it doesn't seem like there are any outstanding teams in the League. We have played nearly all the 'top' teams – losing to a few, but always competing, and beating a few on the way also!
We move on to the FA Trophy this week with a game away against Brightlingsea Regent. It's the early stages of this great competition but another opportunity for us to progress.
Cheers
Steve C 
THE OLD BULL INN, a traditional 16th-century inn,  is located at 56 High Street, Royston, SG8 9AW and is the perfect place for both rest and rejuvenation. Whether you are staying in one of their comfortable en-suite rooms, cosying up around the open fire with a drink, dining in their restaurant or hosting an event in one of their function rooms The Old Bull Inn is sure to exceed your expectations!