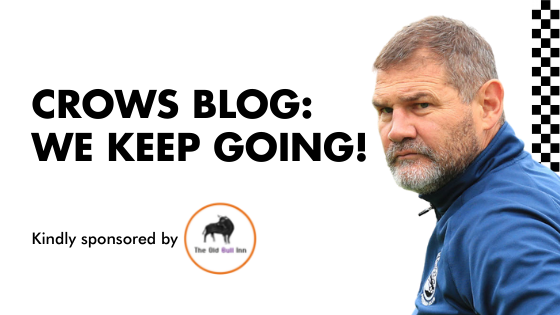 CROWS BLOG: WE KEEP GOING!
CROWS BLOG: WE KEEP GOING!
Hi everyone,
Unfortunately, it's a defeat to report on today after we surrendered a 1-0 lead to lose by 2 goals to 1 to Leiston!
Very disappointing to say the least, especially after going 1-0 up and possibly having the opportunity to score more. For me, the first half was pretty even but you could definitely see the qualities that Leiston have. That said, they did also leave themselves exposed at the back and Brandon had 2 great chances. He slotted one away nicely and the other was a great save so we also had some positivity to take out of the first 45 mins.
In to the second half and it was time for us to push on…but like so many times this season, it didn't quite happen for us. I do appreciate the disruption when players have to come off but that's part and parcel of the game. As I've said on several occasions this season our general level of performance has to stay higher for longer in matches.  Too often our performance levels drop, both individually and collectively.
Trying to put a positive slant on things – a great result on Tuesday from the boys winning 2-0 at Walton Casuals in the Southern League Cup. It's not easy going midweek into the middle of London and getting a result so well done to the boys for that.
But back to yesterday and as I said at the start we have to keep going. This season for different reasons has been inconsistent, to say the least. I feel it has been tough for all of us. My biggest disappointment thus far is our home form. Over the last few years, we have expected our home form to be good and it has been. To get a decent crowd, as we did on Saturday, and then to not deliver the required result is hard to take.
On to the next match, an away trip to Stourbridge next Saturday. They also haven't had the best of times so we need to make sure we have a good week of training and get back to performing like the Crows we know!
Cheers,
Steve C
The CROWS BLOG is kindly sponsored by THE OLD BULL INN, a traditional 16th-century inn,  located at 56 High Street, Royston, SG8 9AW and is the perfect place for both rest and rejuvenation. Whether you are staying in one of their comfortable en-suite rooms, cosying up around the open fire with a drink, dining in their restaurant or hosting an event in one of their function rooms The Old Bull Inn is sure to exceed your expectations!