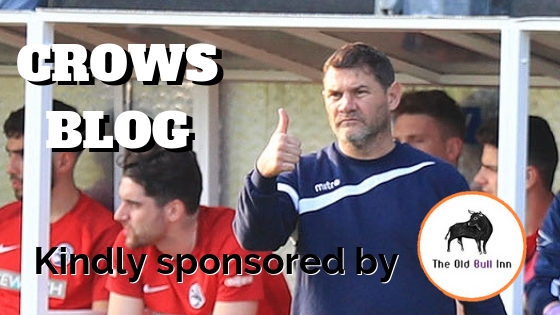 CROWS BLOG: What a day!
The CROWS BLOG is kindly sponsored by The Old Bull Inn
CROWS BLOG: What a day!
What a day!!!
It was absolutely fantastic seeing all the Royston Town Youth lads enjoying our FA Cup win as much as we did!
What a community, everyone involved should be very proud and to increase our attendance to over 400 was brilliant.
I've been told by Alan Barlow (Club President) to keep it positive and I'm more than happy to oblige. There were nerves on both sides but I did feel that more of their players were dealing with it slightly better than us. We tried hard to play but struggled to get any flow in our possession, it was a few silly little errors that spoilt it!
But my big compliment to our team is that they kept on going! There were no heads down, they tried and tried. Although we lost our one goal advantage by half time, in general, we took the match to our opposition and a tremendous piece of skill by Matt Bateman won us the game!
I for one will be listening to the draw on Talk Sport 2 at 1.30 pm on Monday. But, who to get? I'm not sure, I,  like everyone else,  want to progress so I guess a home tie against similar opposition but then for us to draw to take on a higher level team home or away would be a great challenge as well!
Being honest here, although I have felt extremely proud of Chris and I's achievements for the club, we've always felt that we've failed in the FA Cup. Sometimes we've been unlucky – Braintree over 2 games the year before last and others like AFC Sudbury which we were embarrassing at best. So it was great to finally 'do ourselves justice' and to progress this far is satisfying for all of the squad!
Hopefully, after this performance, we will have recruited a few more supporters – the more the merrier for me!
I do want to make a special mention to those lads in our squad who not playing regularly at the moment – Spyros Mentis, Luke Knight, Ben Martin, Harold Joseph and to some extent Josh Castiglione. Every single one of them has shown great attitude and patience. I know they all want to play more and I also know that they need valuable game minutes to get under their belts to ensure that when they do get their chance they stay in the starting eleven.
All of them have been on different journeys this season, some have missed pre-season completely like Spyros and Luke, some have had a full pre-season and then for various reasons have come out of the team through either injury (Josh) or suspension (Harold). Ben is the one I've left out and his circumstances are that he had a couple of weeks off due to a Summer holiday but the combination of our good start and the good form of our defenders, especially Adam Crowther,  has restricted Ben's involvement into first-team matches!
As I've said earlier, all of them have been superb attitude-wise and they need game time and with our 'cluttered' upcoming fixtures they will get their opportunities soon enough,
I suppose the only downside (Don't worry Alan I'm not going to be negative!) is that we are getting slightly behind in our League program. We have another Cup tie against Welwyn Garden on Tuesday then a really tough league game against Hednesford on Saturday, followed by another league match against Hitchin on Tuesday at home. As you can see our schedule will be hectic so say the least! Add the FA Trophy into the mix and some exciting encounters that will hopefully keep the interest of all of us!
All of the lads will be needed, hopefully, we can get Gus Scott Morriss back as soon as we can and also get a replacement for Joe Newton in ASAP! Unfortunately, Joe's loan spell from Coventry City has now come to an end which is disappointing for us but it does show just how highly Coventry City think of him and we wish him all the best in his career.
Thanks again for your support and Up the Crows!
SC
THE OLD BULL INN, a traditional 16th-century inn,  is located at 56 High Street, Royston, SG8 9AW and is the perfect place for both rest and rejuvenation. Whether you are staying in one of their comfortable en-suite rooms, cosying up around the open fire with a drink, dining in their restaurant or hosting an event in one of their function rooms The Old Bull Inn is sure to exceed your expectations!