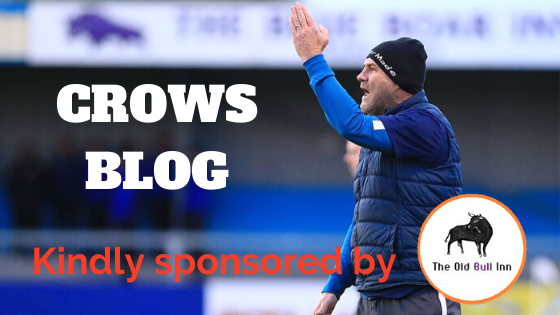 CROWS BLOG: WOW, WOW, WOW!
The CROWS BLOG is kindly sponsored by The Old Bull Inn
CROWS BLOG: WOW WOW WOW!!!!
I always knew we had it in us but to beat Chester to get into the last 16 of the FA Trophy is amazing!!
Yes, before that we have beaten Wealdstone and Boreham Wood but to keep this brilliant form up was going to be so hard. Fair play to ALL of the players, they have been superb! In both their attitude and approach to each and every game over the last 2 months!!
Now comes the really big task! To keep it going! It's great creating history by getting as far in the FA Trophy as we have but we all want success. I'm not saying it will be the Trophy but why not? We are now in with the 'big boys' and Monday's draw will be very interesting indeed.
Putting the Trophy to one side for a moment, this group deserve to win something. Obviously, the League is massive and although we dropped to 5th yesterday, generally the results went alright for us, so that's definitely one to go for. Both of the Hertfordshire FA Cups are still available to us also. The Charity and the Senior Cups are now both at a vital stage.
It's a fantastic time to be involved with Royston Town FC, both as a supporter and as staff and players. I'm sure the boys are enjoying it, I know I am! Everything at the moment seems to be dovetailing in nicely, lads like Ryan Ingrey and Taylor Parr are coming back from injury right when we need them.
I know I'm possibly boring everyone with me going on so much about the whole process involving the 'Squad' but it's so true. I have had the luxury of keeping a big group of players together, all very equally matched. For that, I can thank the board and the Chairman for. It's so good to keep the team fresh but to also generally not lose the standard.
Sometimes the players are not always happy with this process and most just want to play week in week out but to compete on as many fronts as we are at this moment in time it is crucial in my opinion. I can only thank the boys for their patience. As always both Chris and I try to make the selection of teams as fair as we can. As I've said before, we try and keep the team 'fresh' but at the same time keep a degree of continuity to it – NOT EASY!
Back to yesterday's victory over Chester, it was great to see as many as we got there watching. Hopefully, we can get another home draw and add to that attendance figure. Thanks again for all the support we received, it makes for such a better atmosphere and it certainly 'gees' the lads up and I know they appreciate it!
Cheers!
Steve C
THE OLD BULL INN, a traditional 16th-century inn,  is located at 56 High Street, Royston, SG8 9AW and is the perfect place for both rest and rejuvenation. Whether you are staying in one of their comfortable en-suite rooms, cosying up around the open fire with a drink, dining in their restaurant or hosting an event in one of their function rooms The Old Bull Inn is sure to exceed your expectations!