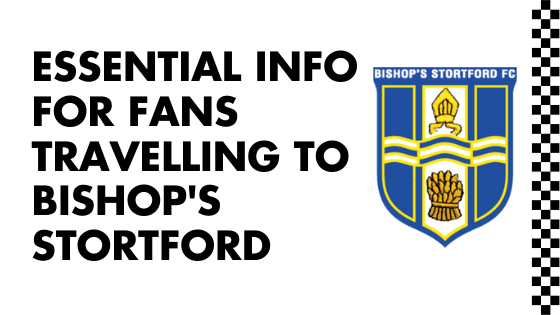 ESSENTIAL INFO FOR ALL FANS TRAVELLING TO BISHOP'S STORTFORD
We have received the following information from Bishop's Stortford FC for those who wish to attend our Emirates FA Cup Third Qualifying Round game next Wednesday.
General Admission Pricing
Adult admission at the ProKit UK Stadium is £12, Concessions £8.00, Students (ID Required) £6.00, Under 16's £1 and all children Under 12 are admitted free when accompanied by an adult.
Supporters who have not attended Bishop's Stortford FC this season:
For all BSFC home fixtures, all attendance will need to be logged for track and trace purposes.  What BSFC need you to do before 11am on Matchday,  is to email info@bsfc.co.uk with the following details:
Your name,
Contact details (email is fine but add phone if you prefer),
Number of tickets you are requesting,
Names of your guests (it will be your responsibility to contact your guests should there be a need in the following 21 days).
Confirmation that you (and your party) are COVID-19 symptom-free – please check your party before you leave for the ground.
BSFC will allocate tickets on a "first-come, first-served" approach and will advise you if you have not been successful (only should the current Government driven capacity of 600 be exceeded).   They will have a list of names at each turnstile to check as below.
Matchday process
On the day please arrive early as we have no real idea how long it will take to "process" everyone.
Queue (following social distancing rules), there will be a station before the turnstile to check you and your parties names (substitutions are allowed but not wholesale please), ensure that you sanitise your hands, take your temperature and ask you all to confirm that you are symptom-free.
Pay and proceed through the turnstiles.  Both turnstiles accept cash or contactless payments.
Once in the ground please make your way, following the signs to your chosen (and allocated) area.  It might be numbered seats in the stand or the area behind a goal.
BSFC are not adopting a one-way system at this point but will have "give-way" signs at pinch points around the ground – please respect these.
BSFC expect each party to respect "social distancing" around the ground and when queueing for burgers or drinks.
Masks are optional – but BSFC would prefer you to wear one – especially when queuing.
The Clubhouse will be open and operating a one-way system – you will enter by the door next to the burger van and exit on the far side of the Mitre suite.
Hopefully, these "rules" are logical and self-explanatory.  As football clubs, we are in the spotlight and doing our best to ensure a safe and compliant return to "normal" football.