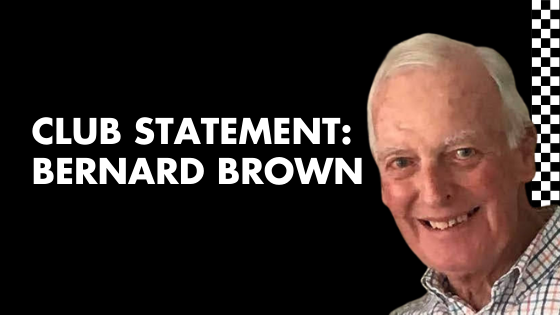 CLUB STATEMENT: BERNARD BROWN
It is with a deep sense of loss and sadness that we have to announce the death of Bernard Brown one of the Club's most loyal supporters and a longstanding servant to the cause of Royston Town FC.  Bernard died peacefully at the age of 81 in the early hours of Monday morning, 6th October, after a long and debilitating illness.
Bernie had a very long history of involvement with the Club going back to 1970 when, as Dawn his devoted wife recounted recently, they moved from Enfield to Royston and on return from their honeymoon in 1970 he announced: "I'm off to play for Royston on Saturday".
That early commitment to the Crows never faltered as he became a key player in the Club and part of the Championship-winning Reserve team in the 1971/72 season. Over the years Bernie also served the Club as Chairman, with Dawn as Club Secretary, during the early 1990s when the club was experiencing some of the most difficult financial challenges in its history.  He also was manager of the Crows Youth team, continued when his best playing days were over with our Vets and was the kingpin in the revival of the Vice Presidents Club in 2008.
Bernie will always be remembered as a statesmanlike personality who commanded everyone's respect but not least because he was a really genuine nice guy and a true gentleman.
On behalf of everyone at Royston Town FC, our deepest condolences go to Dawn, Stuart, Catherine and all of Bernie's family and friends.
RIP Bernie
Alan Barlow
President