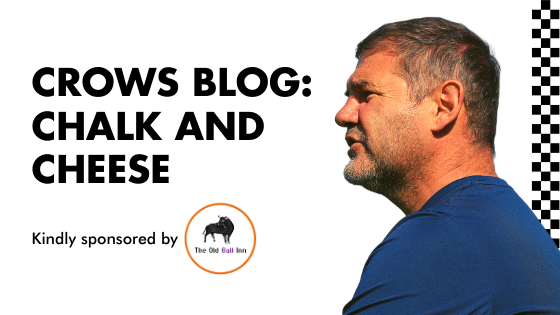 CROWS BLOG: CHALK AND CHEESE
CROWS BLOG: CHALK AND CHEESE
Hi all,
Firstly apologies for not doing a blog after the Biggleswade Town match, getting home late and work in the morning meant that I had no real time to express my views. But about Tuesday's match, it was disappointing to say the least! We have been playing well in short spells (until yesterday against Stourbridge!) but never long enough to really to get on top in a match. I appreciate that we didn't lose the game and are still undefeated at home thus far but the players know and recognise that they haven't been getting to their own high levels.
Anyway, enough of the negativity. After Tuesday's match, I suggested to the players that they have a meeting. They did and apparently, it was very constructive.  I understand that some home truths about various things were sharedbut the general feeling I'm told was they had to work harder and compete more.
Onto yesterday and the boy's reaction – for me it was excellent. To a man, they went about the game with a positive attitude and created several great chances and scoring one goal. To be picky we probably should have got more goals but the one we scored was extremely skilful from all involved. I didn't think Stourbridge threatened at all until they earned their penalty. No complaints regarding the decision but up until then Ed (Asafu-Adjaye)had been superb. We then dipped slightly after that through to half time. However, I felt we completely dominated the second half and were very unlucky not to get the winner. As the title of this blog says – 'Chalk and Cheese' in regards from Tuesday's performance to yesterday's. Obviously, a win would have been better but with Saturday's positive performance we can work on that!
Onto our next match, an FA Cup game against Bishops Stortford. They have started very well so it won't be an easy task but I'm a lot more upbeat by this weekend's display and now we have to build on what we've done.
Finally, I want to pass on mine and the First Team's congratulations to our U18s on their continued progress in the FA Youth Cup. They beat Holmer Green 8-0 away on Thursday and will now face Dorking Wanderers in the next round. I can highly recommend getting down to Garden Walk on a Thursday night and watching them as they are an exciting team to watch. Also, best of luck to Endo (Lewis Endacott) and his Women's team in their Women's FA Cup game this weekend. It'd be great for the whole club to see all of our teams progressing in their respective cup competitions.
Cheers,
Steve C
The CROWS BLOG is kindly sponsored by THE OLD BULL INN, a traditional 16th-century inn,  located at 56 High Street, Royston, SG8 9AW and is the perfect place for both rest and rejuvenation. Whether you are staying in one of their comfortable en-suite rooms, cosying up around the open fire with a drink, dining in their restaurant or hosting an event in one of their function rooms The Old Bull Inn is sure to exceed your expectations!