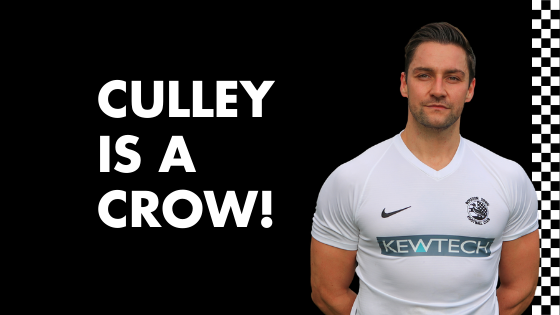 NEW SIGNING: CULLEY IS A CROW!
NEW SIGNING: CULLEY IS A CROW!
As you may have seen in a recent blog post from Steve Castle the club recently completed the signing of striker Duncan Culley from Isthmian League South Central Division side Tooting & Mitcham United.  Duncan is a proven goalscorer in non-league football as shown during his time with, amongst others, Bromley, Hampton & Richmond Borough and Hayes & Yeading United – where he scored an impressive 37  in 59 games. We caught up with the Crows new signing just after the weekends draw with Stourbridge.
First of all, welcome to Garden Walk and Royston Town!
Cheers – it's good to be here.
What can the Crows fans expect from you?
Footballing wise, they can expect a team-player, someone who's loyal to the badge, the club and all those involved with it. Off the field I'm happy to talk to anyone and I'll just enjoy being a part of it all. I've already started to experience what a wonderfully friendly and close-knit club it is, and I'm looking forward to being a part for the long-term.
And what will you bring to the side?
Goals, hold-up play, hard work and just being a general nuisance for defenders. I love winning and hope that I can help lead the club to more of it, as I've done elsewhere.
Why join Royston Town?
To start with, some of the lads that I've played with previously and trust entirely, have always spoken so highly of the club, even when we were playing together elsewhere or when I'd caught up with them last year. Along with that, during preseason and at the start of the season I'd had a lot of offers come in from clubs and there was always a voice in the back of my head telling me to stay put where I was, but when Royston Town came in, that voice wasn't there. Then after having conversations with Steve Castle and Steve Jackson, I was sold. The approach came at a very fortuitous time as well as we'd just made the decision in my work to close our main Blackfriars office, making my football commute to Tooting & Mitcham United around 2 hours, and just unrealistic. Decision made.
As you mention, you already know some of the lads at the club having played with a number of them before – did that influence you in joining?
Absolutely. Spyros (Mentis) messaged me to start with for a bit of an update and to see if I would be interested, and we then ended up on the phone for a good hour, then the 7 day approach came in for me and I had Scotty (Bridges) and Ed (Asafu-Adjaye) on the phone. I trust those lads personally as well as within football, so when they told me about their love of the club, the professionalism it's run with and what the lads are like it became an even easier decision.
And finally, what are your hopes for the season?
Good FA Cup and FA Trophy runs, and finishing at least in the playoffs. We should be in the National League with the team we've got, so it's just a case of getting us there. Come on you Crows!