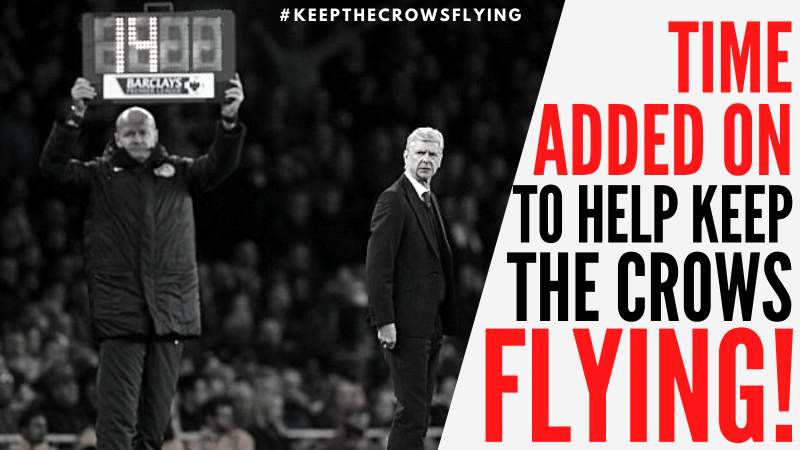 EXTRA TIME for Crows Crowdfunding campaign!
EXTRA TIME for Crows Crowdfunding campaign!

"The Fourth Official has indicated that there will be 14 days of added time!" 
We are now in the final throes of our 'Keep The Crows Flying' crowdfunding campaign but it's just gone into EXTRA-TIME!

Thanks to the donations of supporters from across the country and also from the local community we have surpassed our original ambitious fundraising target of £20,000 last week. And we've now been granted a 14 day extension to the campaign to push for our stretch target of £30,000. The campaign will now close at 11am on WEDNESDAY 8th JULY.

Speaking about the campaign so far Club President Alan Barlow said
"We've been truly bowled over by the generosity shown by our fans, fans of other clubs and the whole Royston community in contributing to our crowdfunding campaign. Everyone at the club has been touched by the generosity, goodwill and kind words we've received from the Crows faithful and the wider community. Our focus as a club has always been on our community and this experience has further strengthened our commitment to the town of Royston and its surrounding areas"

He continues, "When we started this campaign we set ourselves an ambitious target of £20,000 and an even more ambitious stretch target of £30,000! We never thought that we would be in a position of striving toward our stretch target at all, let alone now with 2 weeks still left to go! We have received a grant of £5,000 from Sport England as part of their 'Active Together' fund and as a board we are still investigating further funding opportunities. Our aim is to now hit our £30,000 stretch target and we have around 14 days to raise the remaining £6,000. No donation is too small or too large and one lucky donor will also receive a free season ticket for the upcoming season!"

As part of the crowdfunding campaign, the club are donating a free season ticket to a local key worker for every £1,000 raised, in recognition of their efforts during the current pandemic. At the time of publishing the club will be distributing 24 FREE SEASON TICKETS to local key workers but we hope to donate more!

 Our 'Keep The Crows Flying' crowdfunding campaign can be found at:  https://www.crowdfunder.co.uk/keep-the-crows-flying