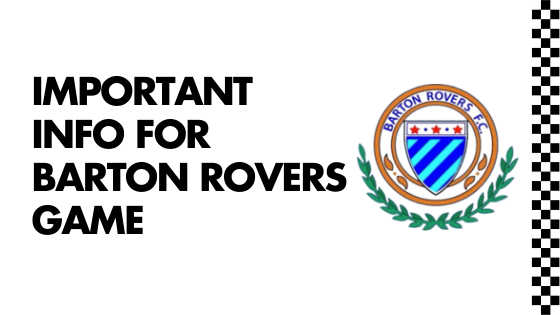 IMPORTANT INFO FOR BARTON ROVERS GAME
This coming Tuesday we are pleased to finally be able to welcome you all back to Garden Walk!  We will be hosting Barton Rovers in our first HOME pre-season friendly of the year. The game will kick-off at 7.45pm and as per current FA and Government guidelines we are allowed a gate of up to (but not exceeding!) 300 people.
For this game, we will be offering a mixture of on-line and limited on-the-gate ticket purchase. Tickets are split between home and away fans. With this being our first home fixture since March we are expecting this game to be very popular and we strongly recommend that you purchase your ticket in advance if possible.  Tickets for this game can be purchased online at the discounted price of £5 Adults, £3
Concessions (65+) and just £1 for Children up to 16.
Under the current COVID regulations we will need to collect contact details ( name, address, email and contact number) for all attendees for the purpose of Track and Trace. Therefore, if you choose to buy on the gate on the day of this fixture it will be on a strictly first-come, first-served basis. You will also need to complete a Track and Trace form to register your contact details. To help with this process please visit here to download the form. This is very likely to mean that the process of entering the ground will be slow and any queues will need to meet current social distancing criteria.
Once our restricted capacity is reached you will not be able to buy a ticket. Therefore, the Club strongly recommends that, if possible, you buy your ticket online. Purchasing your ticket online also means that your contact details will be automatically registered and you will avoid having to queue and risk still not being able to buy a ticket.
All season ticket holders are guaranteed a ticket for this fixture and will NOT be charged an entrance fee.