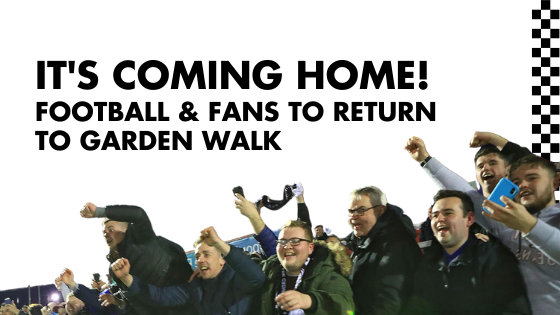 IT'S COMING HOME! Football AND fans to return to Garden Walk!
Whilst the country is gripped by the excitement (or otherwise!) of Euro 2020, the players, staff and volunteers of Royston Town are about to embark on their pre-season preparation. The Crows pre-season friendlies get underway in less than two weeks when they face Biggleswade FC at Bedford Town FC on Saturday 3rd July. Following a further 5, away fixtures the Crows return home to Garden Walk to face a Watford XI on Tuesday 27th July. Club chairman Steve Jackson is particularly looking forward to once again welcoming fans back to Garden Walk. Speaking to the club website he said:
"Having the supporters back at Garden Walk is going to be massive. It will be great to feel the buzz about the place on a matchday again.  Over the last couple of years, we started to see our attendance numbers climb. We were getting over 350 here on a regular basis, and we even broke our attendance record when we had 1152 for our FA Cup game against Maldon & Tiptree. For our players to play in front of that many people every week is great, and it gives them a real lift. We are hoping that our fans, both new and old, will return to once again support the club in their hundreds, like what it was before the pandemic. If that is the case, then I'm sure that the club will continue to thrive and progress."
"As a community focussed club, we are committed to providing high quality, family-friendly, affordable football. Every season myself, the Board and all of our tireless volunteers endeavour to improve the matchday experience and we are constantly striving to improve the facilities at Garden Walk. A family of two adults and two kids under 16 can attend a Royston Town home game for just £24.  Research conducted by the Premier League in 2019 showed that the average price for an INDIVIDUAL to attend a match was £32.50 with some clubs charging up to £97 for a ticket! That £32.50 would cover an entire family's admission with a drink each for the same cost at Garden Walk next season!"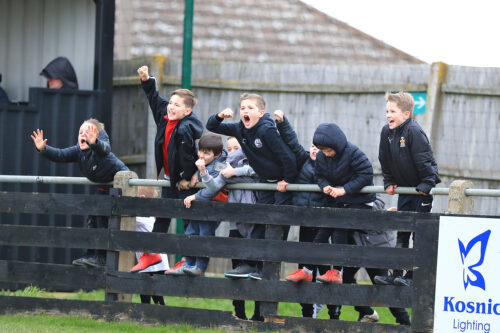 "We are seeing an increasing number of fans coming to watch games at Garden Walk that are becoming ever more disillusioned with the Premier League. We have Chelsea, Arsenal, Tottenham and West Ham fans stood next to each other on our terraces every week – everyone gets on because they're all here for the Crows! Matchday at Garden Walk is a much more informal affair than Premier League fans might be used to – there's a far more relaxed and friendly atmosphere. There's not a lot of tension between home and away fans, in fact, they normally swap ends at half-time! Alcohol can be bought and drunk pitchside, and the atmosphere is very family-friendly. The crowd at Garden Walk is a real mix of people, families, dogs, groups of friends young and old who have found us to be a glue that helps keep our local community together. You'll make life-long friends and be able to have a drink with the players in the bar after. Oh, and there's no VAR!  It's a bit of a no brainer really."
Manager Steve Castle added:
"We're really looking forward to next season. The last couple of years have been really frustrating as we've felt like we have been on the cusp of something really special at Royston. We were in a great position in the league and had record-breaking runs in both the FA Cup and FA Trophy before the season was prematurely curtailed by the pandemic. And then last season got postponed after just 8 games or so. But pandemic aside, it's been a really exciting period, not just for ourselves and the club, but for the supporters as well. It'll be great to get the fans back. Football at any level is nothing without fans but particularly at our level, they are the lifeblood of clubs. Hopefully, they'll all come back and can follow us again on our journey. The fans really are massive for us, not just at home but also at away games now. It would be great if we can get to where we were in our FA Trophy run. We took an amazing 6 coachloads to Concord Rangers and a fair few more travelled in cars!  I urge any football fans who haven't been to Garden Walk to come along and take in a game – you won't be disappointed. People need to come and support their local football clubs because you will feel a lot more part of it all than at some of the 'big' clubs. With non-league football, the fans are more than just customers. You can go and speak to the players and club officials after the game. You can interact with them and really feel part of the club – you can make a difference! Everyone at Royston Town is there for the love of football and is trying to make the club and the community that bit better"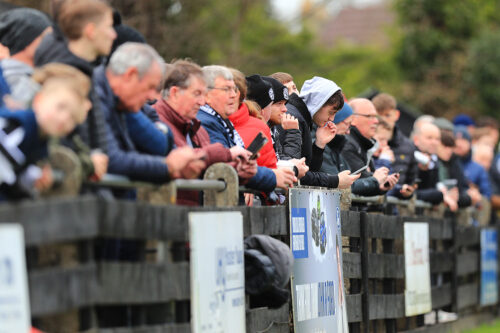 The club are currently offering Season Tickets at a special 'early bird' reduced rate until the end of July. To purchase your Season Ticket ahead of the new season for Royston Town, click here.
Early Bird Season Ticket Prices:
ADULT: £150 – the equivalent of £7.50 per game – a saving of 25% on the gate price!
CONCESSIONS: £75 – equal to £3.75 per game – a saving of 37% on the gate price!
JUNIOR (UNDER 16): £10 – works out at just 50p per game! – saving a whopping 75% on the gate price!
The EARLY BIRD offer is valid until 31st July 2021.
As a Season Ticket holder you also automatically become a member of the Royston Town Supporters Club which gives you:
Free entry to Reserve/Youth Team matches
10% discount on Clubhouse hire
A further benefit is that season ticket holders are also able to attend and vote at the Club's AGM. We are also working with some of our generous sponsors to provide Season Ticket holders with discounts on the goods and services they offer – more details of this new benefit will follow shortly!