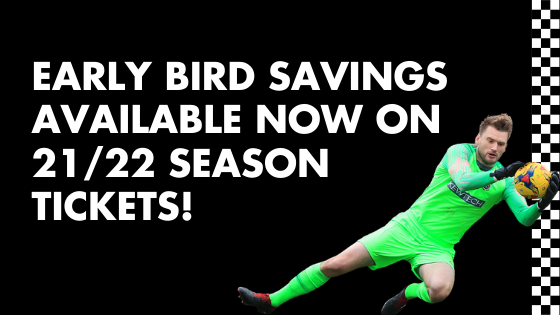 2021/22 SEASON TICKETS – Early Bird Offer now LIVE!
With the Club now starting to gear up for the new 2021/22 Pitching In Southern Premier League Central season, we are pleased to announce our special 2021/22 Early Bird season ticket offer for all those supporters who want to purchase a season ticket for the coming season.
The discounted prices of the Early Bird tickets are:
ADULT: £150 – the equivalent of £7.14 per game – a saving of 28% on the gate price!
CONCESSIONS: £75 – equal to £3.57 per game – a saving of 40% on the gate price!
JUNIOR (UNDER 16): £10 – works out at just 48p per game! – saving a whopping 76% on the gate price!
The EARLY BIRD offer is valid until 31st July 2021.
From 1st August 2021`our regular 2012/22 Season Ticket prices will be as follows:
ADULT: £180
CONCESSION: £90
JUNIOR (UNDER 16): £15
If you don't yet have an account go to the 'TICKETS' section at the top of this page, choose the season ticket option and then follow the online instructions.  If you are a bit unsure about using the online option then application forms are also available from the club.
As a Season Ticket holder you also automatically become a member of the Royston Town Supporters Club which gives you:
Free entry to Reserve/Youth Team matches
10% discount on Clubhouse hire
A further benefit is that season ticket holders are also able to attend and vote at the Club's AGM. We are also working with some of our generous sponsors to provide Season Ticket holders with discounts on the goods and services they offer – more details of this new benefit will follow shortly!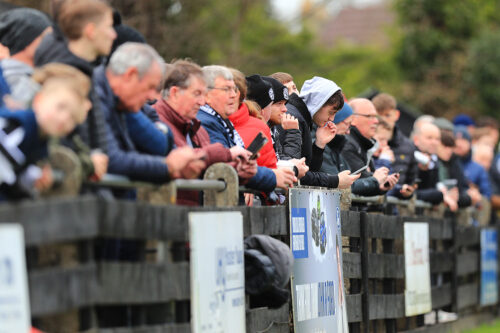 IMPORTANT INFO FOR 2020/21 SEASON TICKET HOLDERS
As previously announced, in recognition of the loyal support shown by the Crows faithful during the Covid19 crisis, the Club has agreed that all season tickets purchased for the 2020/21 season, which was declared null and void,  will remain valid for the 2021/22 season at no additional cost. There is no need for existing season ticket holders to take up the Early Bird offer.
Many existing season ticket holders have already contacted the club asking if they can 'buy' a season ticket for the 2021/22 season in the form of a donation to the club. The Club has been touched by these very generous offers of support and is happy to facilitate these requests. Any donations, of any amount, in place of season tickets, can be made directly into the Club bank account by using the following information:
Account name: Royston Town Football Social Club
Sort Code: 20-73-26
Account number:  20767859