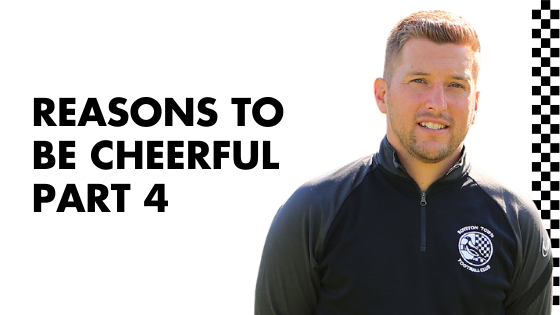 REASONS TO BE CHEERFUL PART 4 – Lewis Endacott
REASONS TO BE CHEERFUL PART 4 – Lewis Endacott
Hi all,
As I'm sure many of you are aware, there's a lot more to Royston Town FC than just our Men's first team and I wanted to provide you all with a review and update of the areas that I look after.
Women's
After a disappointing end to last season which, like the Men's first team, was declared null and void, everyone returned to football with added excitement and enthusiasm after such a long period out. Whilst we lost some key players from last season we have also gained some exciting young players along with some returning older faces. Every new addition has undoubtedly added quality to our squad. We started this season with a good 1-1 draw against title favourites Luton Town. We then started our FA Cup journey with a difficult away tie against Peterborough United. The game finished 4-4 and we triumphed 4-2 on penalties. In the next round, we were drawn at home against Brett Vale where we triumphed 8-0 with some great goals being scored! This then set us up with an away tie against higher level Stevenage. the game went to penalties after a 3-3 draw and we progressed to the next round after a 5-3 penalty win. This was a fantastic afternoon for all involved. and equalled our best ever run in the Women's FA Cup. However, sadly we were on the wrong end of a penalty shootout against a tough Harlow side in the next round. Hopefully, we can get our season going again when the authorities see fit. When that time does come I highly recommend you popping down to Garden Walk on a Sunday afternoon to watch the women in action – trust me, you won't be disappointed by what you see.
Reserves
Our Reserves have had a great start to the season and are currently sitting in 3rd place. Rest assured we will definitely be chasing promotion once the season resumes. We are currently the league's top scorers, with 30 goals in 12 games. Thesquad includes some very exciting young players who are only getting stronger and are really benefitting from the experience of playing senior Men's football. We have already had a number of players progress from our U18s team which shows that we have a great player pathway in place at the club.
Community
2020 has been a great year for our Development Centre. This started in 2018 with a group of just 10 girls and now we have over 60 talented boys and girls of all ages.
As a community programme, we also work in local schools but as you can imagine COVID has made it extremely difficult for us to work in schools as lots of extracurricular activities have been paused. However, we are still finding various ways of continuing our fantastic and highly valued work in local schools. COVID has had a huge impact on everyone and we have been helping the children by delivering our positive, motivational, teamwork workshops in schools to help with both their mental and physical health.
So all in all its been an eventful year but one that has seen all areas make significant progress. Hopefully, 2021 will be another one of progress for the Club and we can all get back to doing what we love – playing and watching football!
Merry Christmas, Happy New Year and stay safe!
Cheers,
Endo