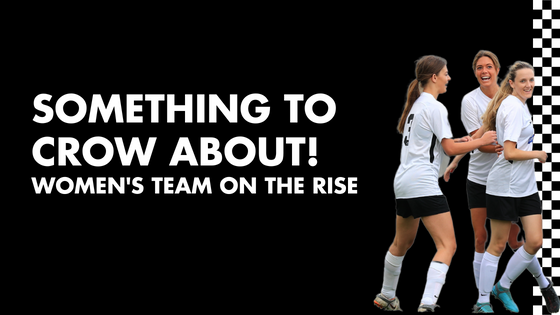 SOMETHING TO CROW ABOUT! WOMEN'S TEAM ON THE RISE
SOMETHING TO CROW ABOUT! WOMEN'S TEAM ON THE RISE
Women's football is the fastest-growing sport in the UK and with the Women's European Championships kicking off it's only going to get bigger. The country is sure to be enthralled with the exploits of the Lionesses again and England internationals such as Ellen White, Millie Bright and Beth Mead are fast becoming household names. In recent years the standard and quality of Women's football have increased drastically. Alongside this improvement in quality has come an increased interest in the game and its players. Now is an extremely exciting time for women's football and it seems there's no ceiling for how high the sport can go.
Attendances and participation in women's football are growing rapidly. We've witnessed this ourselves with the gates at our Women's games steadily increasing. Our own Women's team are hoping to build on their record-breaking performance of last season and will, once again, be setting their sights on promotion. The Crows currently play in the Eastern Region Women's Football League Premier Division. This is Tier 5 of the Women's football pyramid. Tier 1 is the Women's Super League and includes teams such as Chelsea, Manchester City and Arsenal.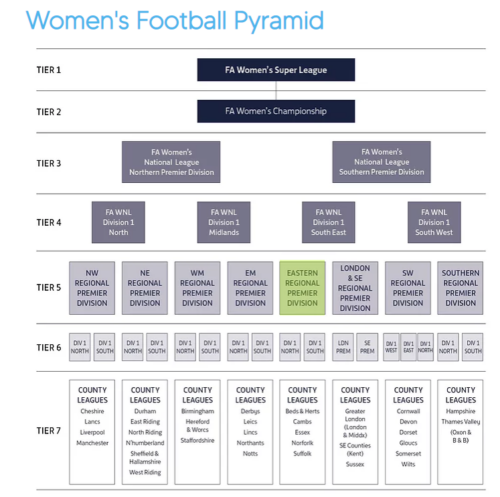 NEW FOR 2022/23
In recognition of the level that the female Crows play at, the rise in the overall playing standards,  the squad's commitment to their training and performances, and in recognition of the value that we believe the matches deliver we will, as of the coming season, be charging admission to our Women's First Team games at Garden Walk. Last season we were one of just a handful of clubs that didn't charge for entry to games. However, we do feel that by introducing a small admission charge then we can give ourselves a greater opportunity to climb further up the pyramid. The matchday admission charges will be as follows:
| | |
| --- | --- |
| ADULTS | £4 |
| CONCESSIONS | £2 |
| U16's | £1 |
We will also be introducing a season ticket for the Women's First Team for the first time ever!  We are currently in the process of finalising the details of this and will provide an update shortly. Men's season ticket holders and Royston Town Youth player cards will provide free entry to all Women's league and Cup games at Garden Walk!
In a further attempt to 'professionalise' our approach to the Women's game we will also be offering companies, organisations and individuals the chance to sponsor individual matches and players. Details of both of these sponsorship packages can be seen below: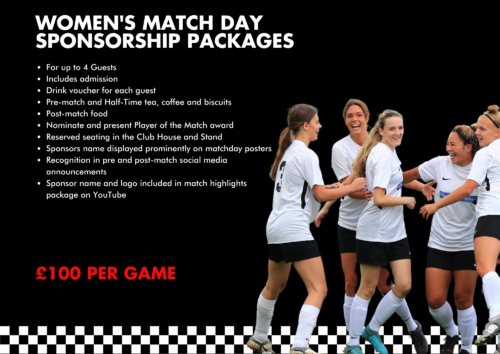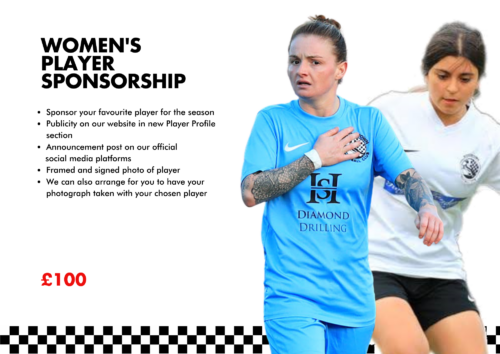 If you'd like to take advantage of any of these opportunities then please contact  ladies@roystontownfc.co.uk or call 07812 988071
If you haven't been to a Women's game at Garden Walk yet then we encourage you to do so at the earliest opportunity. Keep an eye on the website, our social media channels and the Women's dedicated Twitter account for details of upcoming fixtures and more news.