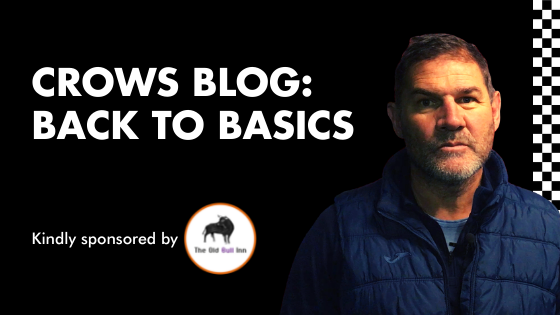 CROWS BLOG: BACK TO BASICS
CROWS BLOG: BACK TO BASICS
Hi!
Firstly apologies for not providing a blog after Saturday's  FA Trophy match, but here's a review of both games to cover that if that's ok?
Saturday's FA Trophy game against Kingstonian brought about a defeat for us but there were so many positive things to come out of the game.  We lost out on penalties after a 90-minute draw. We definitely had the lions share of chances and play but we just couldn't quite get the winner to avoid the dreaded lottery of a penalty shootout.
The boys gave everything but we just didn't get the rub of the green. I hope Brandon doesn't mind me saying but most of our opportunities fell to him. On this occasion, he couldn't finish them off but in fairness to him, his finishing is normally of a very high standard but sadly not on Saturday.
Now on to Tuesday night – another hard tie, away at Peterborough Sports, and so it proved to be. We had a couple of casualties from Saturday's game and brought Matt Bateman back into the fold after his absence. Bar Matt for Harry Draper ( who had injured his knee) we went with the same team and line up.
As some of you are no doubt aware the travel to the game was very disrupted – a large part of the A1 was completely closed due to a serious accident. I personally got to the game at 7.30 pm which was not ideal. Most of the players got there around 7.00 so our preparations were not how they ideally should be. That said, however, the game started very quickly. We took a while to settle but Peterborough were right on the front foot. We conceded a penalty early on but Joe Welch saved it.
I thought they had the edge, but other than a bit of sloppy play from us to allow them a goal, we gradually got to grips of things. Issac Galliford especially looked lively and the general feeling going into the halftime break was that the game was still very much in the balance despite us being a goal down.
The second half started and for whatever reason, we just didn't get going. They scored a second goal and then quickly got a third. At this point, we looked as low as I've seen us. This was very alarming, to be honest. I appreciate that throughout the game we had several things not go in our favour, mainly Matt Bateman having to come off and then also Scott Bridges,  both with injuries but all the same I expect us to stay in the game longer than we did.
As everyone knows, it's not been a great time for us of late, especially in the League but no one can feel sorry for themselves, including me. We have to keep pushing forward and we will. There's a meeting planned for Thursday and then training. We need to get back to basics and go again.
Cheers,
Steve C