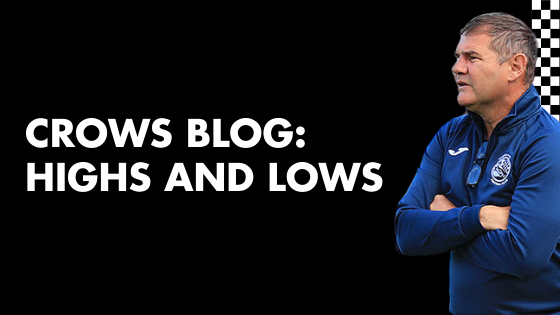 CROWS BLOG: HIGHS AND LOWS
Hi everyone,
First of all, a big thank you to all the fans and sponsors that attended our Presidents Evening at Garden Walk last night. Hopefully, we put on a decent display against a very youthful Watford team.
Many thanks to all involved at Watford for committing to the fixture. I'm sure they are inundated with requests for games but we at Royston Town are very grateful!
One very sad situation that put a bit of a downer on the evening was that of a Watford lad picking up, what looked like, a nasty injury and caused the game to be abandoned. I really hope that it's not a bad one. I, and everyone at the Club, wish the lad a full and speedy recovery.
With regards to last nights performance, both Chris and I were pleased with our energy and our willingness to shut the ball down quickly.  Although they were a young team, Watford looked an accomplished outfit in possession and were always wanting to play out from the back. With us being that bit more experienced than them we caught them out often but fair play to them, they still kept on trying to play through the thirds.
On to our next match and we're at home again on Saturday, this time against Cheshunt –  so if you enjoyed last night please come along and watch once more.
So as we stand at the moment it's been a real 'mixed bag' of highs and lows within this pre-season campaign. Generally, though, it's been a positive time but occasionally a negative is thrown in to remind us that we have to keep on working hard!
Cheers,
Steve C