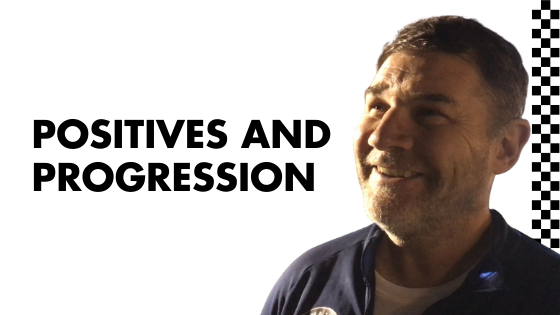 CROWS BLOG: POSITIVES AND PROGRESSION
Hi guys!
Sorry for the absence of blog posts but I couldn't really comment on previous matches because I wasn't there.  I missed 3 games due to being 'pinged' and it was agony but a special thank you goes to Jake Easley who regularly gave me updates through Twitter to keep me informed as much as possible.
So with both Scott Taylor and Chris Watters both having to self isolate after the Biggleswade match, Saturday's game at Ware was the first game we have all been able to attend!
So briefly from afar, the last 3 games – loads of positives to take from them, even if some didn't look evident initially. We have given the players tasks, both individual and collective, to test them, to see how much we can play but with limits! Sometimes we can get the ball and express ourselves which we are encouraging but we also need to have the 'nouse' to stretch the play and be a real problem for our opposition. For me, it's all about not being 'predictable'- not a long ball team and not a play at all costs team but something that is somewhere in between. Is it unrealistic? I honestly don't know! But what I do know is, there's an extremely talented group of players and if they take this on board,  I believe that it will make us a better outfit!
So, as I said at the start of this post, Saturday was the first time in this pre-season that we had all of our staff present at the same time. Yes, the result was satisfying but more importantly for me, the boys took all the points on board and a definite progression was made.
Tomorrow sees a big game for the club with football and fans finally returning to Garden Walk. Watford FC are our visitors and I'd like to thank Tom Hart for helping us arrange this game. It's sure to be a great night and I know that myself and all the boys can't wait to be back out there performing in front of you all again.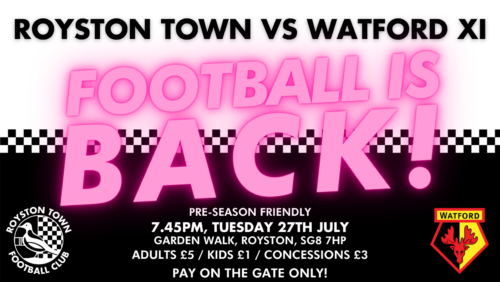 From here on in, we have plenty of games. After Watford, we face Cheshunt at home on Saturday 31st July and then we travel to Potters Bar the Tuesday after (August 3rd), and then possibly one more game against an EFL side – hopefully at home. All to prep us for the start of our league campaign at home against Tamworth on Saturday 14th August.
Talking about the start, our start will not be easy but in my opinion, out of all the step 3 Leagues ours is probably the most competitive, so all matches will be a test!
Cheers and see you Tuesday!
Steve C