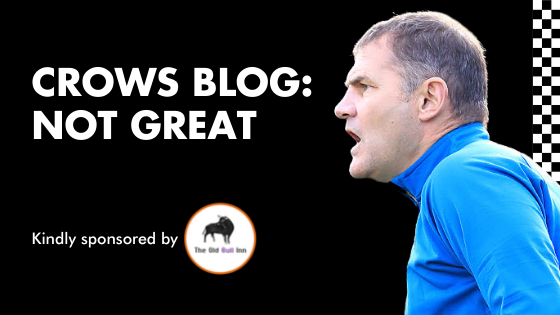 CROWS BLOG: NOT GREAT
CROWS BLOG: NOT GREAT
Hi all,
Unfortunately, the boys let themselves down on Saturday by losing at home to Rushall Olympic.  It ended up being 'slightly' unlucky due to a fantastic come back but overall we lost and over the 90 minutes we really can't complain about the result!
The first half killed us.  We were short in most departments across the pitch and for me, the lack of a competitive spirit was the most disappointing. Not from all I will quickly add but some never really got going. It does happen but it can't keep happening. I suppose with early season results as long as the players learn from the process we can get more consistency.
There's just no way I can dress this performance up and provide any excuses! Yes we had a few out injured and some were last-minute withdrawals but the squad, in general, must do better. For me, rather than saying players were missing, I'd like to look at it as giving other players their opportunities. At this point, I want to hastily add that it's not the 'young ones'. Freddie Brown and Macki Murray came in and performed admirably.
For whatever reason, we just didn't get going in the first half but boy did we make a game of it in the 2nd 45! It was great to see Brandon Adams and Matt Bateman link up for the first goal. From there on we looked so much more positive. Chances were coming more frequently now and the feeling was when not if we were going to equalise and we eventually did! A massive effort from all.
Did we lose concentration towards the end? I suspect that we did, slightly. and fair play to Rushall Olympic. They took the 3 points from a very 'contested and controversial' corner right at the end! My feeling was that it had to be offside. Supporters, who over the years have always been very fair, stated to me that it was offside. I appreciate from my angle I have no right to question it but when our Goalkeeper is off his line, none of our other players are near the scorer and the scorer finishes on the line it makes perfect sense that their man is offside. However, the officials allowed the goal and although possibly unjust, over the 90 minutes we made far too many errors to win the game.
And now a quick turnaround to the next match – Hitchin Town away – a local derby. This is sure to be a very tough match. Probably with our mixed performances, it's not ideal but we need to believe once again and start climbing that table.
The sooner the better please lads!
Cheers,
Steve C
The CROWS BLOG is kindly sponsored by THE OLD BULL INN, a traditional 16th-century inn,  located at 56 High Street, Royston, SG8 9AW and is the perfect place for both rest and rejuvenation. Whether you are staying in one of their comfortable en-suite rooms, cosying up around the open fire with a drink, dining in their restaurant or hosting an event in one of their function rooms The Old Bull Inn is sure to exceed your expectations!