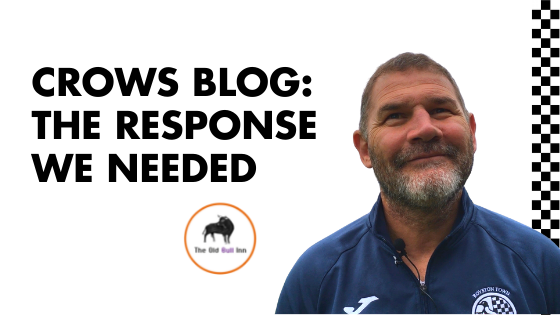 CROWS BLOG: THE RESPONSE WE NEEDED
CROWS BLOG: THE RESPONSE WE NEEDED
Hi guys!
First of all, thanks so much for the support on Monday! You all made yourselves heard and it was great for us staff and the players to come over at the end to share the celebrations with you all and to show our appreciation!
To come away from Hitchin with a convincing win was extremely satisfying, especially after the low moments of recent matches. We responded so well with some really solid performances from all the players. I did jig things around a bit, bringing in Scott Bridges and Issac Galliford but mainly keeping it to the players who played against Rushall on Saturday. The reason for not making too many changes was that I felt that those lads had a point to prove and boy did they. Isa Rotimi, who we took off early on Saturday because 'it just wasn't working' responded in the manner asked of him. He won every ball and was forever on the front foot. Dan Newton was another player that on Saturday it just didn't work out for, but he came on in the 2nd half and was excellent in an unfamiliar role as a sitting midfielder.
I know I said it after Saturday's match but I will say it again the young lads in midfield have done so well. On the outside, it may look a little unfair on Fred Brown and Makai Murray but they will get their moments. We are very fortunate to have an abundance of talent in this area especially when you also include Ryan Towner, Scott Bridges, Spyros Mentis and Elliott Kettle. Others can also go into this important position, so it's great to have options.
The same can also be said for the front roles. Harry Draper was available on Monday but we decided to stay with Brandon and Matt up top with playing Issac in a free role. One player who didn't feature on Monday was Josh Williams, It was very unfortunate for Josh but we felt that after his Covid episode he needed to gain better fitness levels. Josh is a very important player for us and will feature for us regularly.
Another player that is getting much closer to getting minutes is Ronnie Henry. Ronnie has proved that he is the consummate professional. He has been at every match, has recently completed hard running sessions and we are all hoping that he be making a return soon.
So after 5 league games, we stand 9th in the table – and a few ups and downs already! Obviously, we are now looking for more consistency but let's hope that from now on it's onwards and upwards, eh?
Finally, I wanted to just remind you that our U18s kick off their FA Youth Cup campaign on Thursday night at Garden Walk against Baldock. It's definitely worth popping along to see them in action as they have a number of very decent players in their ranks. Also, don't forget that we face Mildenhall Town next Saturday in the FA Cup and it'd be great to hear you all in full voice again for that one.
Cheers,
Steve C
The CROWS BLOG is kindly sponsored by THE OLD BULL INN, a traditional 16th-century inn,  located at 56 High Street, Royston, SG8 9AW and is the perfect place for both rest and rejuvenation. Whether you are staying in one of their comfortable en-suite rooms, cosying up around the open fire with a drink, dining in their restaurant or hosting an event in one of their function rooms The Old Bull Inn is sure to exceed your expectations!