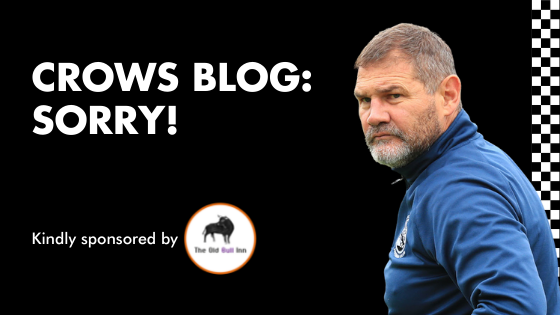 CROWS BLOG: SORRY
CROWS BLOG: SORRY
Hi guys,
For anyone who was at Garden Walk today, I need to make a heartfelt apology from all of us on the staff and playing side.
Quite simply we let you all down! We have no excuses to offer you.
As the manager of the football club, I take full responsibility for the result today. We started the game okay and when we went 1-0 up we looked like we would progress into a convincing outcome. But for whatever reason, we stopped playing. We didn't really trouble their goalkeeper and when they equalised with a good free-kick, we did feel that getting to halftime was important.
I do feel that this season has been a struggle. We haven't played consistently well for 90 mins other than in the first league game against Tamworth. Other than that result we have played in 'fits and starts'  and never in a real 'flow' that we all enjoy!
Obviously, as I write this post straight after the game emotions are still running high. Here at Royston in recent years, we've had many more highs than lows and it's what makes football and yes as disappointed as we all are, I do know that we will bounce back and prove what a good group we are. I've got to be honest at the moment that sounds a little empty and as I'm saying it I'm probably trying to convince myself as much as anything else. But, we ALL need to dust ourselves down and go again.
Once again to the board, the Chairman and all of the supporters, we are sorry. We will get it right but today we let every one of you down.
Steve C
The CROWS BLOG is kindly sponsored by THE OLD BULL INN, a traditional 16th-century inn,  located at 56 High Street, Royston, SG8 9AW and is the perfect place for both rest and rejuvenation. Whether you are staying in one of their comfortable en-suite rooms, cosying up around the open fire with a drink, dining in their restaurant or hosting an event in one of their function rooms The Old Bull Inn is sure to exceed your expectations!