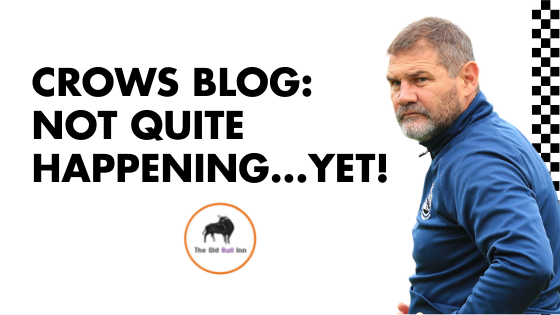 CROWS BLOG: NOT QUITE HAPPENING…YET!
Hi guys!
As I'm sure you are all aware Saturday's result was 0-0.  Unfortunately, not the resounding victory we all wished for but at least there was an 'intent' to do better!
Personally, I felt that our first-half display was good but without the crucial end product! At halftime, we tried to force the play a bit and perhaps that made us go a bit more direct which then became a bit too predictable!
I do feel that a team of our status has to go to try and win games. Whether at home or away you will always find us wanting to take all 3 points in matches. However, at times, 'forcing it' just doesn't work and Saturday was one of those days. It definitely wasn't for a lack of effort on Saturday but that essential element of quality just wasn't quite there.
I do feel though that it was a step forward and I felt that the boys had the endeavour. The key thing now is that we can keep taking those steps forward.
I want to make a special mention of Mackai Murray – he's a young lad who has joined us recently and is coming into the fold. He, along with Freddie Brown are 2 lads that could have very bright futures in the game! They may have to be patient at times but their progress, even in this early stage is very encouraging.
On to Tuesday night – a League Cup match against Welwyn Garden City. It's important that we maintain our momentum and continue to improve and move forward, but games like this give all in the squad an opportunity to stake their claims for a spot. We feel that places are still very much up for grabs so the management message to the lads is 'Go for it!'.
Cheers
Steve C
The CROWS BLOG is kindly sponsored by THE OLD BULL INN, a traditional 16th-century inn,  located at 56 High Street, Royston, SG8 9AW and is the perfect place for both rest and rejuvenation. Whether you are staying in one of their comfortable en-suite rooms, cosying up around the open fire with a drink, dining in their restaurant or hosting an event in one of their function rooms The Old Bull Inn is sure to exceed your expectations!