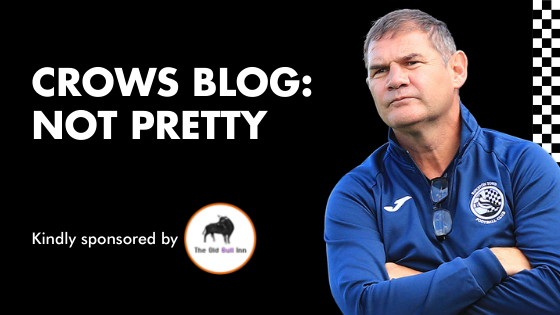 CROWS BLOG: NOT PRETTY
Hi guys!
As the title says, not a 'pretty' match yesterday but one that with hard work we came out as the winners.
With quite a significant slope on the pitch, our hosts were obviously used to the conditions and started on the front foot. For me, though we do tend to give away needless and 'silly' fouls and at times invite pressure on to us. They took the invitation but our defending from set plays especially was good. However, their goal came from a cross that we should have dealt with but going into the break at half-time the general message was to keep upbeat and use the advantage in the second half.
And we did that, we took more control and although not as fluent as we would all definitely like, we slowly but surely got closer to the equaliser. In the end, the equaliser came from the head of 'Big Muz'. This then spurred us on to possibly go and get the 3 points!
The victory did come courtesy of a penalty from Brandon Adams. I was very pleased for him as Brandon for me is an excellent player. He works his heart out week in week out but at times makes some rash decisions on the ball which at times are not always the right choices. I know that it's very easy for me to say that, and I'm sure he doesn't do it on purpose but if we can get more shots from him and fewer passes then I feel he will get even more goals than he already does.
So overall, Saturday was a good day! But now we need to do it all again on Tuesday night at Rushden & Diamonds. They got a decent result yesterday – coming from behind to beat Hitchin with a last minute winner –  so they will no doubt be buoyant from that. So like all games in this league not easy.
These weeks with 3  League games in 7 days really help shape the League. Collect some positive results and we can progress up the table dramatically but let's not get carried away. What we have got is lads on the bench who are desperate to be a part of things. We will need all of them so my message to them is please be patient boys!
Hopefully, a corner has now been turned!
Cheers,
Steve C
The CROWS BLOG is kindly sponsored by THE OLD BULL INN, a traditional 16th-century inn,  located at 56 High Street, Royston, SG8 9AW and is the perfect place for both rest and rejuvenation. Whether you are staying in one of their comfortable en-suite rooms, cosying up around the open fire with a drink, dining in their restaurant or hosting an event in one of their function rooms The Old Bull Inn is sure to exceed your expectations!