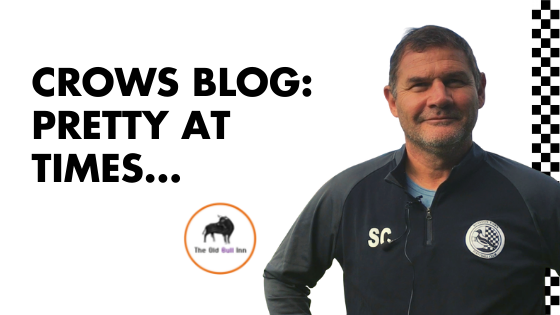 CROWS BLOG: PRETTY AT TIMES
CROWS BLOG: PRETTY AT TIMES
Hi everyone,
A great away win to report on from Tuesday night for us. In my opinion, we deserved it and firstly well done lads for the win –  BUT ( you knew that there was gonna be a but) we do make hard work of it!
The goals we scored were sublime! Great play by Issac Galliford to feed Josh Williams to calmly put the first away. Then Issac himself burst through their defence and superbly nestled the ball into the back of the net for our second. So we found ourselves 2-0 up inside 12 mins, an unbelievable start, now we need to push on and make the game safe. However, for me, the  'simple football' that had got us our lead then stopped and we suddenly went and overplayed – taking too many touches to release the ball and then our natural flow was affected.
Unfortunately, Muz (Adam Murray) made a mistake to allow Rushden to pull a goal back and before we knew it there was some hope for the hosts to possibly take something from the game.
Half-time came and the boys knew that they had let our opposition off the hook a little but fair play to them throughout the second half we kept resolute and gave very little away for Rushden to score from. And then to secure the points, another piece of great individual skill from Brandon Adam, chesting the ball, turning and beating their goalkeeper all in one movement for the third goal and to cement the points.
A great win and I really don't want to take the cream off the victory but we really do need to address the 'sloppy play' that at times can slip into our game. I know how this sounds, and even writing it I'm thinking wow I'm coming over negative,  but with this group of players, there is a tremendous amount of talent. The goals we scored clearly show that is the case. We just need to not give anything away. Inevitably teams will score goals against us but we need to make sure that they 'earn' their goals rather than us gift them.
To leave this blog post on a positive, I do want to publicly state that the boys have responded tremendously well – ALL of them. We've had to make some tough choices over the last few games, leaving certain lads out and playing in different ways, but generally although players are not happy (as you would expect) they have all dealt with things in a very professional way.
On to this Saturday and another tough match – this time at home to Nuneaton Borough. They haven't had the best of starts but make no bones about it they will be a very hard team to beat. We need to ensure that we concentrate on our own performances. Keep the game simple and as said give nothing away. Here's to that!
Cheers
Steve C
The CROWS BLOG is kindly sponsored by THE OLD BULL INN, a traditional 16th-century inn,  located at 56 High Street, Royston, SG8 9AW and is the perfect place for both rest and rejuvenation. Whether you are staying in one of their comfortable en-suite rooms, cosying up around the open fire with a drink, dining in their restaurant or hosting an event in one of their function rooms The Old Bull Inn is sure to exceed your expectations!