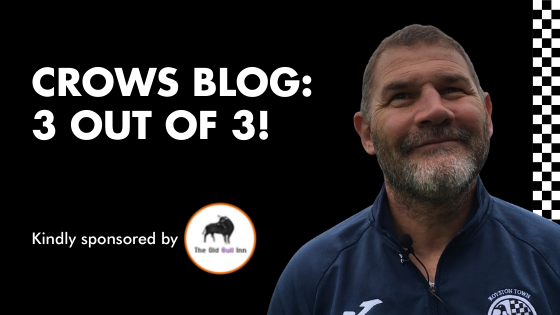 CROWS BLOG: 3 OUT OF 3!
CROWS BLOG: 3 OUT OF 3!
Hi everyone,
I want to start this blog by saying fair play to our lads in achieving 3 wins in a week. It's a great achievement and within the space of a week, we have boosted our League aspirations greatly!
With us going out of the FA Cup too early, there was a dark cloud over our start to the season. I wouldn't say that it has been totally lifted but getting on a winning run as we have is making everything a bit more positive at last.
I think you can see that the quality is coming – the goals we have scored recently are clear evidence of that –  BUT ( there's always one eh! ) we must reproduce this level of quality more often! This is not an unhappy manager talking but one that knows just what level and depth of talent that we have at the club. If if we can keep reproducing this level of quality then we could have a successful season.But, let's not carried away though eh!
The season is a long journey that we have to take week by week. I've been in football long enough to know there will be ups and downs along the journey but if the boys keep the faith and work hard then the ups should outweigh the downs.
I want to take the opportunity to thank everyone for their support on Saturday. It wasn't a nice day for us all weather-wise but it's so important that we all back each other up as best we can. Looking at the weather forecast on Saturday it would have been easy to stay at home and follow the game on Twitter but myself, Chris, the rest of the staff and the players really do appreciate the fans turning out in all weathers and cheering the boys on. It definitely makes a difference.
Tomorrow night we have another home match – this time in the League Cup against Needham Market. As always it's one that we want to win but, at the same time, it's imperative that we test and utilise the squad fully. There are a few players that are in need of game time including Ronnie Henry. I know that he's been incredibly frustrated to have missed games with his injuries and he is desperate to join our cause. In his spell on the sidelines, he has shown great professionalism and great character by attending all of our games and training sessions. I know from firsthand experience how hard it must have been for him but he has always had a smile and positive attitude for the lads to learn from. I believe that he will be a big asset to the side and will make us all better.
Cheers and see you on Tuesday night!
Steve C
The CROWS BLOG is kindly sponsored by THE OLD BULL INN, a traditional 16th-century inn,  located at 56 High Street, Royston, SG8 9AW and is the perfect place for both rest and rejuvenation. Whether you are staying in one of their comfortable en-suite rooms, cosying up around the open fire with a drink, dining in their restaurant or hosting an event in one of their function rooms The Old Bull Inn is sure to exceed your expectations!