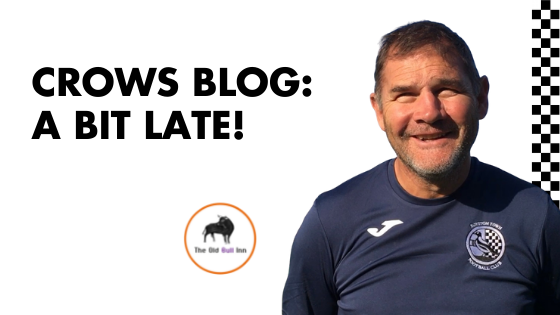 CROWS BLOG: A BIT LATE!
CROWS BLOG: A  BIT LATE!
Hi
Sorry chaps for this blog post coming a little later than usual. For no other reason than work on Wednesday and managing to get an early nights sleep after the game.
A 4-2 victory! Sounds convincing eh? But not this time. For large parts of the match on Tuesday night, we were behind in the game. Sometimes by 2 goals to none! I thought that our opposition, Needham Market, were very tidy in possession and they went 1 up quite early in the first half. In fact, if it wasn't for the heroics of our goalkeeper Oliver Williams we could well have been out of the game completely! We struggled into halftime and I've got to be honest the dressing room wasn't full of too much positivity. Mainly because I thought that we had played badly. Our passing was sloppy, to say the least, but my main gripe was the lack of endeavour and tenacity which had been very evident in previous matches.
In to the second half and it was better. We looked like we wanted to win the game at least! We had a couple of half chances but nothing outright that would really test their keeper. It did seem like a goal would come but we shut ourselves in the foot again with a bad back pass to Ollie. It never had the pace on it to get back to him but he had, rightly, committed himself to the tackle. Ollie got there but it ricocheted to a Needham Market player who shot at the goal. Ron Henry got in the way to keep it out but the ball fell to their most dangerous player who put it into the back of the net for 2-0! Bloody hell!
In fairness to our group, they rallied and started to look like much the stronger team. We did rely on set plays and Muzza got a header to reduce the deficit. After that, we did seem to really take control. Issac Galliford, who is in a rich vein of form struck an excellent shot to get the equaliser. From then on in, I and I'm sure most that were there thought that we'd go on to win the game or that we'd run out of time and have to deal with the lottery of penalties. But then Brandon stepped up again and fired in a third with Muzza grabbing a second, and the team's fourth in the dying minutes. The final result of 4-2 definitely flattered us and certainly didn't reflect the quality our opponents had shown but I suppose that's football.  So, with cup games and the League, that's five straight wins and I'm still moaning!!
This Saturday we travel to  St. Ives for a local derby. I personally can't remember playing them on a Saturday at theirs so that will be different as will the surface – they now have a brand new 3G pitch. We have had them watched and they are a decent outfit. No disrespect to other teams but our focus is always on us – our performance levels and making sure we make the correct decisions on the ball and off it and in general an attitude to maintain these performance levels for longer than we currently are doing!
Cheers!
Steve C
The CROWS BLOG is kindly sponsored by THE OLD BULL INN, a traditional 16th-century inn,  located at 56 High Street, Royston, SG8 9AW and is the perfect place for both rest and rejuvenation. Whether you are staying in one of their comfortable en-suite rooms, cosying up around the open fire with a drink, dining in their restaurant or hosting an event in one of their function rooms The Old Bull Inn is sure to exceed your expectations!