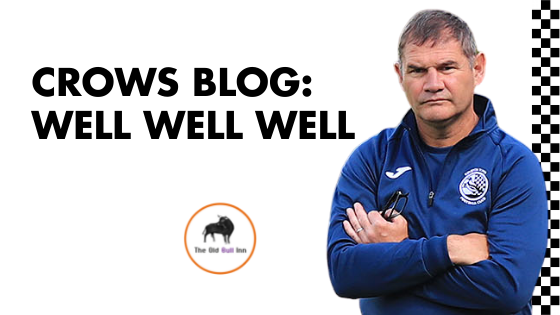 CROWS BLOG: WELL WELL WELL
Hello all,
Well well well!
The game of football never ceases to amaze me and not always in a good way!
First game of the season and we have a home match against one of the title favourites – a game that a draw wouldn't have been the worst result but a win would be exceptional! As we all know, we won and got off to a great start. Followed by Leiston last Tuesday, once again a great start but it plateaued out into a draw. Then on to Saturday….
I don't know what the odds were for us winning at Stratford, but I'm pretty sure that we were probably classed as favourites to carry on a positive set of results. And what happened? A 3-0 loss!
Obviously, I'll try to explain what happened but honestly, we just can't hide from the fact that we were poor on the day. There were still some very important 'moments' in the game. We found ourselves falling behind very early after not clearing the ball as well as we should. But then after that, we gradually clawed our way back into the match. We probably had the better chances in a rather poor quality match and went into the second half feeling that an equaliser was on its way and that we could improve so much more! However, we were definitely our own worst enemies in our general play. We huffed and puffed and there was definitely a reaction but yet again our own undoing gifted Stratford an opportunity to score which they gladly took to make it 2-0!
There was still a little way to go in the game so we kept pushing but quite simply the football just wasn't good enough from the undoubted talent that we have in the squad. We tried, but all to no avail. They then had a man sent off for elbowing Muzza. It should have acted as a kickstart for us but it really was one of them days! And then to compound a thoroughly poor day we conceded a penalty, which Stratford scored from to make it 3-0.
I can't say that Stratford deserved such a win but when you shoot yourselves in the foot so many times then we have to hold our hands up and admit that we weren't good enough.
How strange a week is eh? But then that's why I suppose, although I'm not feeling it at the moment, we all love football so much.
My hope is that we learn and grow from this setback. Never at any stage have you ever heard me say that we aren't good enough. Defeats and performances like this do happen, but our task now is to make sure that we respond as quickly as possible. Unfortunately, there isn't a midweek game but we do have 2 training sessions and I'm sure that we'll be back to competing once again!
Up the Crows!
Cheers,
Steve C
The CROWS BLOG is kindly sponsored by THE OLD BULL INN, a traditional 16th-century inn,  located at 56 High Street, Royston, SG8 9AW and is the perfect place for both rest and rejuvenation. Whether you are staying in one of their comfortable en-suite rooms, cosying up around the open fire with a drink, dining in their restaurant or hosting an event in one of their function rooms The Old Bull Inn is sure to exceed your expectations!