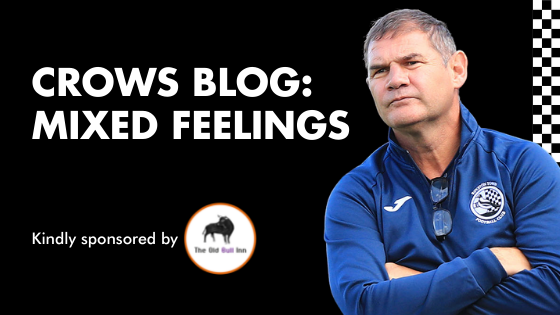 CROWS BLOG: MIXED FEELINGS
Hello,
I write this post having just got back home from our trip to Leiston on Tuesday night. For those who aren't aware it's a 2-hour journey, each way and for a midweek game it's not great for all of our lads to prepare. However, it is the same for all the teams in the League.
1-1 was the result and, to be honest, I've got mixed feelings about it. After Muzza gave us a very early lead, we took the match to our hosts and probably should have extended our lead but we didn't. Leiston struggled to really get themselves into the game and had we got another goal then I feel that we could have gone on and won the game convincing.
With us not extending our lead Leiston produced a very rare attack and with, probably, their first real opportunity to score, did so, to level the game at 1-1. Their belief came back and a competitive match followed. Fair play to our hosts, they grew into the game and probably edged the second half. I feel that a draw was about right.
We're still a little disappointed from our perspective because of the positive start we made to the game but, when you add in the 'off the field' variables into the equation of the day then we shouldn't be too disappointed. I feel that the boys showed a lot of resilience to hang on to the point.
As a club, we always try to help the players prepare as professionally as possible but with us all being part-time then other factors can sometimes negatgively affect our energy levels or performance.
On to this coming Saturday… we have another away match this time against Stratford Town. They bounced back from their opening day defeat away from home at the hands of Coalville by beating Redditch United at home on Tuesday. They will head into Saturday's game in a positive frame of mind but we know that, even after just 2 games, we will compete week in week out! No game will be easy in this League.  We have to make sure that we keep our incredible work rate going to ensure that we have the 'upper hand'. If we can deliver a bit more quality in vital areas then I'm sure we'll come out on top more times than not.
Cheers,
Steve C
The CROWS BLOG is kindly sponsored by THE OLD BULL INN, a traditional 16th-century inn,  located at 56 High Street, Royston, SG8 9AW and is the perfect place for both rest and rejuvenation. Whether you are staying in one of their comfortable en-suite rooms, cosying up around the open fire with a drink, dining in their restaurant or hosting an event in one of their function rooms The Old Bull Inn is sure to exceed your expectations!