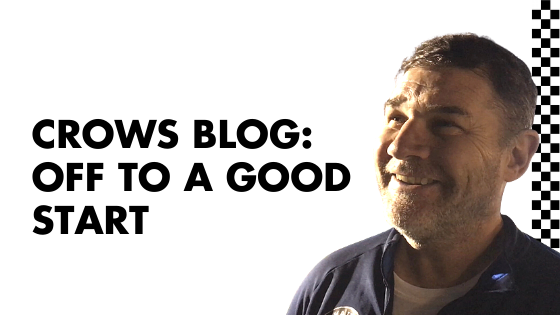 CROWS BLOG: OFF TO A GOOD START
Hi guys,
What a day Saturday was!
Thank you so much to everyone that attended on Saturday. It really was a special day and it was great to see so many people back at Garden Walk and I hope you agree that the boys put on a good performance! It's always nice to get the season off to a good start.
It's only 3 points I hear a few say and I agree, but the way the players went about the game it was so positive.
The first half was a pretty cagey affair and, in fairness to Tamworth. they had a penalty appeal that I feared might go in their favour- it didn't. Maybe that was the slice of luck that we needed to really push on in the second half.
We slightly changed things at the break, enabling Issac Galliford to play a little wider, and the boys remained on 'the front foot'. To nobody's surprise at all,  we got ourselves in front and from then on we never really looked back. Yes, the sending off of their centre back helped but Tamworth were still, and always are, a tough opponent.  Late on in the game they got, what I and many others thought was, a dubious penalty but up stepped Joe Welch to confirm a fantastic day for us by saving the pen and maintaining a precious clean sheet.
As said previously it was only 3 points but a great start to our campaign nonetheless! Now we have to build on that performance – starting tonight away to Leiston. They had a great result at the weekend – winning 4-0 away to  Sporting Bromsgrove. So, both of us will be on a high and I'm sure it will be a good game tonight.
Once again thanks for your support!
Cheers,
Steve C