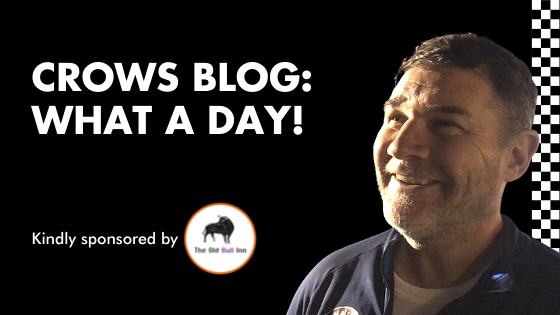 CROWS BLOG: WHAT A DAY!
CROWS BLOG: WHAT A DAY!
Hi everyone,
Wow!  The boys did good, didn't they! 7-1 away from home to our local rivals! It can't get much better than that!
A massive well done to everyone concerned. I'm so pleased for the front boys, all three of them got on the score sheet yesterday. They all know that they all have a task to start games. With how we are playing at the moment it will mean that one out of the three will miss out but no moans from any of them. They have all got on with it and their attitude has been first class. I've got some hard choices ahead!
But I don't want to leave the other players out – yesterday wasn't all about the forwards. The midfield especially has been very pleasing. Ed Asafu-Adjaye in particular, was superb yesterday as he has been recently. Scott Bridges and Spyros Mentis have also delivered some brilliant performances.  Not to mention the defence who have been extremely solid. It's all so very positive moving forward.
I did feel a little for St Ives yesterday. They just weren't allowed any mistakes. We capitalised on everything yesterday. On another day they could have maybe got away with the odd mistake but yesterday we punished everything.
Yesterday's result has now put us in a very competitive position but that is it. I don't want to take anything away from our recent achievements but we can't rest on our laurels. We must keep these high standards up and repeat them. We still need to keep pushing, get the results and keep going. I'm sure that we will have tougher matches coming up but the title race is well and truly on!
At this time I want to praise the staff around me. All have contributed fully. From Jay coming in as goalkeeping coach. To Scott who has been a constant as our fitness coach, to Chris who is completely invaluable with his input. With my position as manager, I have received plenty of positive comments but let me tell you that if it wasn't for ALL of us doing what we are doing it just wouldn't happen. I also want to include the experienced players in this praise too – players such as Dan Brathwaite. They are constantly helping with the group. If standards aren't the height they need to be then they will try to get them up. As with Chris's contribution, it's vital so thanks, EVERYONE!
I think the message coming from me is, and it's not the first time I've said this in my blog posts,  the group is THE most important thing, not one or two of us doing well but that the whole group are achieving what we all want to achieve.
With so many games coming up in such a short space of time, we will have to field different teams, possibly play different formations but as long as the group is positive and strong we can all help one another to keep the levels where we all want them to be.
Cheers,
Steve C
The CROWS BLOG is kindly sponsored by THE OLD BULL INN, a traditional 16th-century inn,  located at 56 High Street, Royston, SG8 9AW and is the perfect place for both rest and rejuvenation. Whether you are staying in one of their comfortable en-suite rooms, cosying up around the open fire with a drink, dining in their restaurant or hosting an event in one of their function rooms The Old Bull Inn is sure to exceed your expectations!