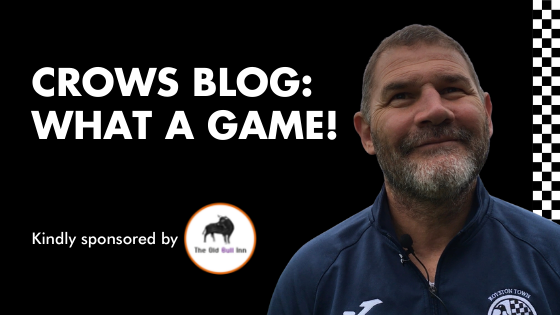 CROWS BLOG: WHAT A GAME!
CROWS BLOG: WHAT A GAME!
Hi Guys,
Well if last nights game doesn't increase our attendance on midweek fixtures then nothing will!
Both teams, ourselves and Welwyn Garden City, went all out for the win and gave an outstanding display of attacking football. We decided to go with a basically young team. Giving debuts to a few from our excellent reserve team. Welwyn fielded a very strong line-up. What followed was a brilliant spectacle that hopefully everyone involved enjoyed.
We started very brightly and played some superb stuff. We gave our visitors very little but fair play to them the chances they got, they took. From our perspective, we felt that we had done enough in the first half to be ahead but for every goal that we got, Welwyn cancelled out the advantage leaving the game level at half-time.
We did feel that if we could keep it going that we would get back on top, which we did but Welwyn being the tough opponents that we know they are, kept at it and once again they levelled things and penalties were looking to be on the cards. Although there were some very tired lads out there we kept pushing and a last-minute winner from Ronnie Henry decided the tie.
For me, there were so many positives, especially performances from our younger lads that the good far outweighed the negatives. It's probably easier to say when we have come out on top in that sort of game but honestly, to watch this was at times a pleasure from all involved.
Team selection at this stage of the season is hard. Obviously, we always want to win games but there are only so many minutes that these lads can play at full tilt. It's probably the hardest side of management. Deciding who to play, for how long and also to have it in mind that our promising youngsters need to get their chance. Hopefully, we got it just about right but not always!
Personally, I felt that the young boys that were involved last night performed excellently. Young Taylor Keely, Fred Brown and Isaiah Hilaire were the picks of the bunch. This might be a bit harsh on Isa Rotimi and Josh Williams but they have had first-team experience. The way all the boys integrated was brilliant. At the same time I can't leave out the rest of the players, many that really needed the minutes but performed at a high level to bring a  'thrown together' team look like one that had been playing together regularly! Well done all!
The lads who were left out need to realise, and I'm sure they do, that if we are to succeed that the group is all-important. Hopefully, the rest they got will pay dividends with the matches coming  'thick and fast'.
Some of our more astute supporters may have noticed that Chris Watters was absent from the bench last night. Chris went to watch the League leaders, Peterborough Sports in their home game against Lowestoft Town. I myself went to see Coalville on Monday night and we had a scout at Banbury versus Bromsgrove last night. It's all about building up the knowledge of our nearest rivals, that may help us in the title race.
Our attention now turns to Stourbridge at home this Saturday. I believe I've said it before, this will be one of our hardest matches because they will be hurting. They will hope to be starting to put things right but not this Saturday, eh! It'd be great to see a big crowd at Garden Walk again and I know that I've said it before but it really gives the players a lift to have the backing of the fans – young and old! You guys have been a big part of the success we've had in recent years and we hope that you can be a part of this years success!
Cheers and see you Saturday!
Steve C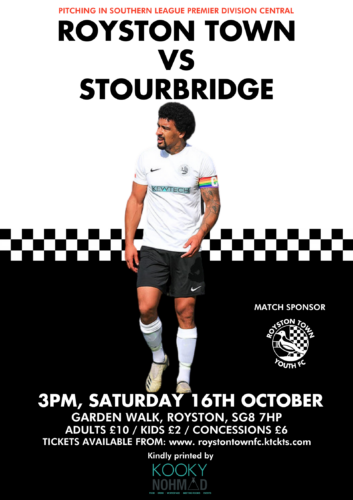 The CROWS BLOG is kindly sponsored by THE OLD BULL INN, a traditional 16th-century inn,  located at 56 High Street, Royston, SG8 9AW and is the perfect place for both rest and rejuvenation. Whether you are staying in one of their comfortable en-suite rooms, cosying up around the open fire with a drink, dining in their restaurant or hosting an event in one of their function rooms The Old Bull Inn is sure to exceed your expectations!