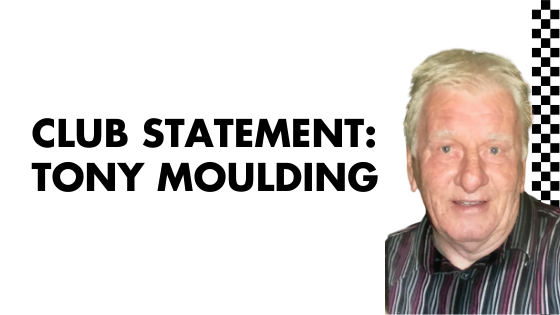 CLUB STATEMENT: Tony Moulding
It is with a heavy heart that we announce the untimely death on Tuesday this week of club stalwart Tony Moulding at the age of 82 after being recently diagnosed with cancer.
Tony was born in Markfield, Leicestershire and moved to Royston in 1968 where he continued to work as sales manager for the metrology equipment company Rank Taylor Hobson before retiring at the age of 53 to set up his own company.
On arriving in Royston he was quickly able to pursue his passion for football by joining Royston Town FC. He became a regular for the first team as a contemporary of the likes of Crow's legends Derek Noades and Trevor Glasscock to name but two and played a central role in Dave Bradshaw's Championship winning team in the 1969/70 season.
In addition to playing for Royston Tony began to get more involved in the overall management of the Club with the likes of Fred Bradley, Chairman and Trevor Glasscock, Football  Secretary. When I joined the club as a player in 1975, Tony was the reason I found myself in the role of General Secretary.  I'll never forget the way he sold it to me as he said 'Alan why don't you just come along to a couple of Committee meetings and see if you'd like to join us!'  Very crafty because 45 years later I'm still involved!
As the years went by Tony took on more and more responsibility and it was a privilege to work alongside him in two of the most defining events in the Clubs history. By the middle of the 1990s, the Club was in grave financial trouble to the point where we both thought we would preside over the closure of the Club.  He, and to a lesser extent me, had to fight a rearguard action against debt collectors and bailiffs wanting to take their pound of flesh.  With begging bowls in hand and after a masterful negotiation by Tony with the Inland Revenue we managed to steady the ship.
After the drama of those times, the work we did on trying to relocate the Club to a purpose-built facility away from Garden Walk took centre stage and it was Tony who was the driving force to get the deals done.  We didn't quite achieve it in the end but I can assure you if you're watching over us  Tony we haven't given it up.
You are maybe unfamiliar with the role Tony played in those two events I've described above but I'm sure a good many will remember Tony for his famous 'Moulding Meander' which he took around the pitch during every game commenting to people as he went on how the game was going!
I find it hard to choose the words which sum up my personal feelings about Tony –he meant a lot to me as a colleague, friend and fellow Trustee but most importantly he represented, in his own quiet determined way, all that is good about the DNA of Royston Town FC – commitment, integrity, good humour and a sense of ambition.
On behalf of the Club, I would like to offer our heartfelt condolences to Steph, Julie, Stewart and John and all other family and friends.
RIP Tony
Alan Barlow