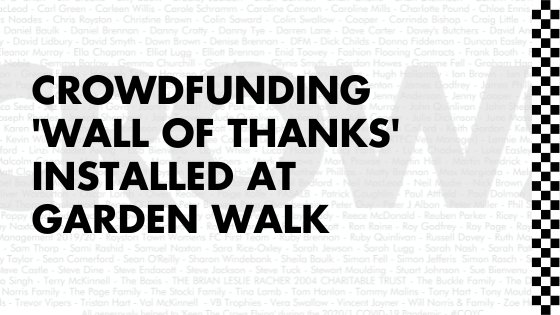 CROWDFUNDING 'WALL OF THANKS' INSTALLED
CROWDFUNDING 'WALL OF THANKS' INSTALLED
The Chairman and Board of Royston Town FC are pleased to announce that the club has today installed a 'Wall of Thanks' to all of those supporters and organisations that contributed so generously to the Crowdfunding campaign that the club launched in May 2020.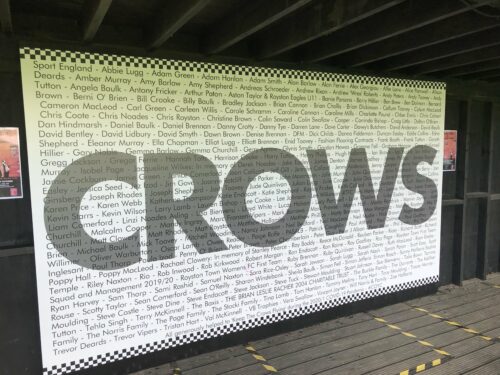 The crowdfunding campaign was launched with the aim of filling the gap in the Clubs revenues that were caused by the COVID-19 pandemic. Like many non-league clubs and businesses across the country we suddenly found ourselves losing pretty much all of our revenue streams almost overnight. As a  result, we were looking at a net shortfall in revenue of in excess of £50K. The board of Royston Town and club volunteers put in place a number of measures to help support the club during this period of uncertainty, but with no real indication of when we would play again or when we could reopen the clubhouse for functions, our primary income streams pretty much disappeared.
In response, the club took the difficult decision to reach out to our fans in the hope that they could help 'Keep the Crows Flying'. The Board set what it initially thought was an ambitious fundraising target of £20,000 to ensure that the club remained where it was before the tragic arrival of COVID-19. Eight weeks later and thanks to numerous donations, gifts and contributions from fans, businesses, the wider football community, Royston residents and various grant organisations we smashed our target! To date, the amount raised by the 'Keep the Crows Flying' campaign stands at £25,475. 
Club Chairman, Steve Jackson said
"The amount that we raised via our crowdfunding campaign was way beyond our expectations and everyone at the Club was, and remains, truly touched by the generosity and goodwill shown by the fans, the Royston community and the wider football family! I and the Board recognise that many who donated to our campaign will have been struggling themselves and yet they still found a way to help support THEIR club. I'd, once again, like to take this opportunity to thank everyone who donated to our campaign – every single donation, no matter how big or small, helped to keep the Crows flying!"
He continued
"After careful consideration and discussion regarding finding the right location for something to recognise the support we received, we are pleased to announce that the installation of our 'Wall of Thanks' in the Kewtech Stand is complete. Many of those fans and organisations that contributed to our cause are named on the board but I want to stress that there are a number of folks who donated that wished to remain anonymous. Although they are not named on the 'Wall of Thanks'  we are, of course, equally grateful to them as well."
The board was installed today (20th October 2021) and you can see a timelapse of the installation below: