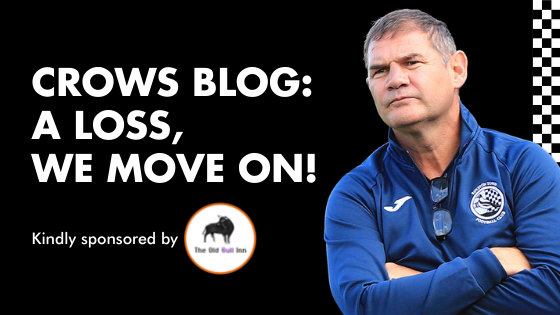 CROWS BLOG: A LOSS, WE MOVE ON!
CROWS BLOG: A LOSS, WE MOVE ON!
Morning all,
I suppose it had to happen at some point.  After our great result in the League against St Ives last week, we came back to earth with a thump by losing to the odd goal to a resolute Stourbridge team.
I know there was talk of Stourbridge's approach to the game and the ref's contribution but at the end of the day, we must firstly look at ourselves and realise that our performance on Saturday wasn't good enough.
You can well comment that the summarisation is harsh but I will follow it up by saying that over the last 2 months we have turned things around considerably and have at times really impressed. We have got ourselves back into things in the League with some great results. So Saturday's performance and the result are frustrating but that's Football!
So, for me, the best thing now is to reorganise and get into our next game as quick as possible. That's going to prove easily done because our next League match is away to Lowestoft on Tuesday night so 'back in the saddle' and we go again!
A quick mention about our goal machine – Brandon Adams. He got 4 goals last Saturday and another 2 in the cup on Tuesday but on Saturday Brandon picked up a knock. After him going to the hospital to have it checked out we've discovered that there are no broken bones but rather a ligament injury. Although not good this is obviously a better outcome than a fracture of any kind.
To be honest I think Brandon's enforced departure from the game affected us a bit alongside their equaliser. Both of those things disturbed us greatly. That's probably natural but, all the same, we must try to overcome these outside influences and get on with winning the game.
Saturday for me is a reminder that with football we can never take anything for granted. We've had some great days and nights recently but it wasn't to be on Saturday. I do believe that's why football is what it is – unpredictable – but that's one of the reasons we all love it. One of the lads said it in the dressing room after…
"Don't get too low after a loss but also don't get too high after a win"
Wise words Braths!
Cheers
Steve C
The CROWS BLOG is kindly sponsored by THE OLD BULL INN, a traditional 16th-century inn,  located at 56 High Street, Royston, SG8 9AW and is the perfect place for both rest and rejuvenation. Whether you are staying in one of their comfortable en-suite rooms, cosying up around the open fire with a drink, dining in their restaurant or hosting an event in one of their function rooms The Old Bull Inn is sure to exceed your expectations!