CROWS BLOG: A GOOD POINT
CROWS BLOG: A GOOD POINT
Hi everyone,
Firstly apologies for not posting a blog after the Lowestoft game last week. In fairness to me, we had a disrupted journey home thanks to a number of roadworks and didn't get back from the game until after 1.00 am and then I had work in the morning.  On Thursday we came in to train and before I knew it we were hurtling towards Saturday and onto another match!
So to even it up I'll pass a quick comment on last Tuesday's defeat to Lowestoft. We had enough opportunities to score before they did but we didn't. In truth, we did everything but score – hitting the post a couple of times and the bar a couple of times but no goal. Unfortunately the inevitable happened – they scored late on – and left us with nothing. The general feeling was that it was pretty harsh on us.  So 2 games played and no points before Saturday's game against Coalville. Obviously, it was vital that we got something from what we knew would be a very hard tie!
Coalville came to us on the back of a fantastic 6-2 victory over Peterborough Sports, the current League leaders so they were on a high and full of confidence. From their performance on Saturday, you could set tell that they are a very good set-up.
Strangely enough, our best period of the game was the start. We were on the front foot and I was extremely pleased with how we were going about things. In my opinion, Coalville weren't really in it but out of nowhere they scored and were 1-0 up!
However, our response was superb. 2 great goals from Issac Galliford and then a fortunate lob from Josh Williams found its way into their net putting us ahead.
Half time came and we got the boys in – some praise but the general message was to keep it going. However, I felt that we stopped doing everything that we had done so well in the first half. Coalville showed what a good team they were and were, in my opinion,  the better team in the second half. They had a few opportunities but we were holding firm.  Joe Welch pulled off a couple of excellent saves but they kept going. We started to look a little tired. They did eventually equalise and to be truthful I felt that we were hanging in there at the end!
Overall though it's a good point. Had we got something from the previous 2 games then it would have been very good but we have to settle for the 1 and look for the 3 points tomorrow night!
This is sure to be another tough game – Banbury United have had a brilliant start to their season and are the only undefeated team within our division. So we will yet again have to make sure that we are well and truly up for it!
Cheers,
Steve C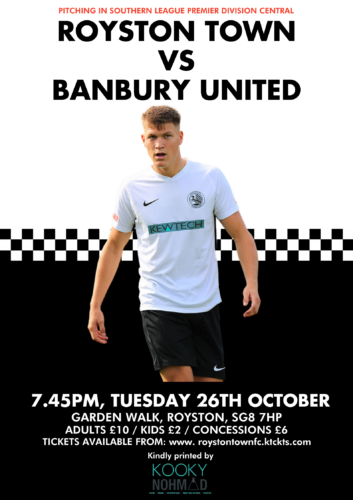 The CROWS BLOG is kindly sponsored by THE OLD BULL INN, a traditional 16th-century inn,  located at 56 High Street, Royston, SG8 9AW and is the perfect place for both rest and rejuvenation. Whether you are staying in one of their comfortable en-suite rooms, cosying up around the open fire with a drink, dining in their restaurant or hosting an event in one of their function rooms The Old Bull Inn is sure to exceed your expectations!