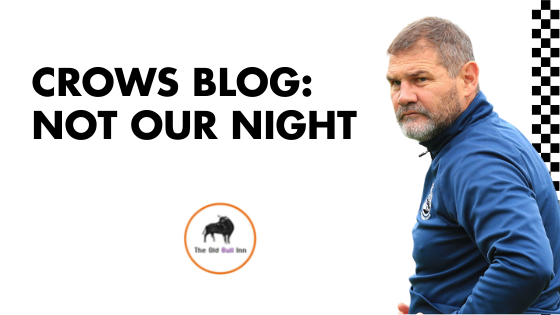 CROWS BLOG: NOT OUR NIGHT
CROWS BLOG: NOT OUR NIGHT
Hi everyone,
Unfortunately, we suffered another defeat last night against a very good Banbury United team.
I felt that we did okay in the first half but lost our way in the second. Why?
Well, in my opinion, we just didn't compete like I know that we can. They had a decent press against us, which we just couldn't deal with. We did have a game plan where we got the ball up to our 2 big lads early but it didn't particularly work particularly in the second half. I did feel that if we went more direct, then the press would be non-effective but I felt that last night we didn't succeed with either plan.
What football we tried to play was generally ineffective because of their press but also because the back to front option wasn't executed well enough so we didn't get the chance to play in their half enough. Overall a disappointing night and definitely a lesson learned by me.
Obviously, all of us are down. Yes, we were missing vital players but we should still have had enough to put in a much more convincing performance. In fairness to the boys, I can get that the group are a bit 'leggy' as we have had a hell of a lot of matches in a short space of time. It's a dip, yes, but that's all it is. The group will come back. We will reset and be ready to go again.
On Saturday we have an FA Trophy match against Stratford Town and so we need to get back up to speed quickly. I'm sure they will be up for it!!
Cheers,
Steve C
The CROWS BLOG is kindly sponsored by THE OLD BULL INN, a traditional 16th-century inn,  located at 56 High Street, Royston, SG8 9AW and is the perfect place for both rest and rejuvenation. Whether you are staying in one of their comfortable en-suite rooms, cosying up around the open fire with a drink, dining in their restaurant or hosting an event in one of their function rooms The Old Bull Inn is sure to exceed your expectations!