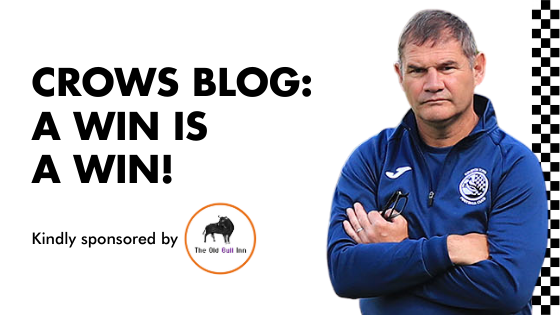 CROWS BLOG: A WIN IS A WIN!
CROWS BLOG: A WIN IS A WIN!
Not pretty last night but eventually we got a hard-fought victory for us against a very resilient Wroxham team. Fair play to them, they really made a game of it. We really should and could have killed it off but by not doing so until the last few minutes of the game, they always had a chance to equalise and take the tie to penalties and then it's a lottery on whether we win or not.
We set ourselves up nicely in the first half by getting 1-0 up but probably all of us were expecting us to kick on but for some reason we didn't. Making for a nail-biting second half. Yet again Wroxham must take a lot of credit – they threw everything at us. Our defence were superb throughout and an upset didn't happen.
Why did we not kick on you ask? If me, Chris and the players knew that we would obviously address it! The longer I'm involved in football the more it never ceases to surprise me. I suppose that's why we all love it so much. I have my thoughts and to articulate them through a blog isn't easy. I do believe it's a confidence thing! Why we aren't confident I don't know – but I do feel at times we let a down period in games get to us too much – both individually and personally. We all know that this group are very talented. They can take on any non-league team and compete, we've shown that last year but on occasions when it doesn't quite happen then we let it get to us and can struggle against teams from any level. Hopefully not too negative but honest.
So onwards and upwards, and a very tough match away to Alvechurch this Saturday. They didn't have a great start but that's a dangerous situation for us. They will be going all out to get their campaign up and running. We have to concentrate on our own performance. We know that we are a good team and we now need to prove it regularly like we did last year. The ability is definitely there and we need to show it for 90 minutes week in, week out. A mission that most teams are striving for so not unique!
On another note, I do hope that everyone's keeping themselves well. It really is unusual times but it's nice that we at Royston are back playing in front of a crowd. It is really taking an amazing effort by all the volunteers and helpers, so 'Thank you' from all of us players and staff to you guys.
Finally, I'd like to take this opportunity to congratulate Lewis Endacott and the Women's team on their victory on penalties over Peterborough United in the Women's FA Cup last Sunday. They've got a home tie in the next round and its great to see the club progressing on all fronts!
Take care,
Steve C 
The CROWS BLOG is kindly sponsored by THE OLD BULL INN, a traditional 16th-century inn,  located at 56 High Street, Royston, SG8 9AW and is the perfect place for both rest and rejuvenation. Whether you are staying in one of their comfortable en-suite rooms, cosying up around the open fire with a drink, dining in their restaurant or hosting an event in one of their function rooms The Old Bull Inn is sure to exceed your expectations!