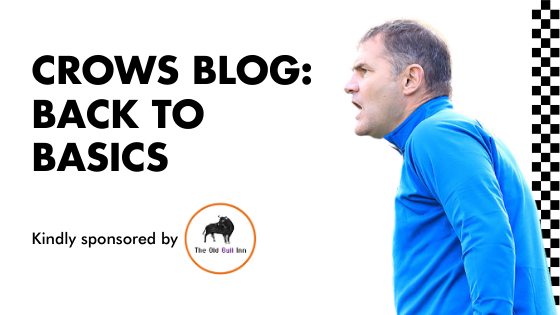 CROWS BLOG: Back to basics
CROWS BLOG: Back to basics
Hi guys.
I don't want this to become a habit but unfortunately yet another disappointing result to report on today.  I appreciate everyone's frustration and I'm as frustrated as the next player, supporter or member of staff but we need to 'dig in'.  Make the game simpler and play basic football and this will turn around. It's hardly a crisis but because we set ourselves such high standards last year, so much was and is expected this season!
I do believe that this 'expectation' has been the key to us not starting right, the lads seem to have put themselves under pressure with this view. Yes, we as staff have said to the players that we are now a 'scalp' for teams in our League. They have to learn to deal with that but what can't happen is us just expecting to win football matches without following the 'basics' – work hard, keep the ball and quality all over the pitch!
The last one I've mentioned is where we are lacking big time and this needs to be corrected fast. Our quality on the ball has generally been dreadful thus far. I know it will get better because the squad is extremely talented but they need to show it from Saturday and for the duration of the whole game!
Some might say these are harsh words, especially after such a great last season but I'm going to encourage everyone to forget last year and for us all to concentrate on now!
Hopefully I haven't put people off from turning up on Saturday, now more than ever we need the support from the Crows faithful. Football is a very strange sport in as much as however low you can go a positive taken the right way can lift you back to the heights, an early goal, an early assist, an early completed pass, whatever, can trigger a good performance. That's what I'm looking for Saturday and I'm sure it will come.
Cheers,
Steve C
The CROWS BLOG is kindly sponsored by THE OLD BULL INN, a traditional 16th-century inn,  located at 56 High Street, Royston, SG8 9AW and is the perfect place for both rest and rejuvenation. Whether you are staying in one of their comfortable en-suite rooms, cosying up around the open fire with a drink, dining in their restaurant or hosting an event in one of their function rooms The Old Bull Inn is sure to exceed your expectations!