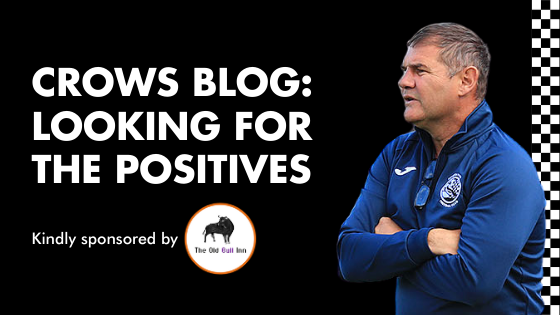 CROWS BLOG: Looking for the positives
CROWS BLOG: Looking for the positives
A very early blog to cover today's game but not a great report to tell you because we really didn't 'hit the heights' today. Why?
Yet again I have my thoughts and I've relayed that to the players. This time it'll stay in the dressing room if you don't mind. Part of what I did say to them was that they are a very talented group of players and sometimes it happens! I'm not dismissing the performance – it wasn't good enough and we all recognise that, but football is football and that's why we love it so much. Everyone strives for excellent performances and solid results. Yes the best teams come out on top more often than not and that will be us but an off day does happen so we have to take a philosophical approach to today! The goals we conceded were poor from our point of view. As long as the players learn from the experience and act on it then I can accept that as I've said: "It happens!". Now we all have to look to Tuesday and another league match – this time away to  Needham Market. A need for the 3 points is paramount now!
Then it's back to FA Cup exploits on the following Saturday. We've been drawn against Stamford at home which, although they are a level lower than us, will be a very tough match.
Anyway a quick reply from yours truly, not to duck out of facing a disappointing result but to try to get positives from what are difficult times in general for all! A definite positive today was Brandon Adams and the impact he had on the game. He got the equaliser on both occasions, the second was a peach of a strike to get us the solitary point-  but at least we're still undefeated!
Cheers!
Steve C 
The CROWS BLOG is kindly sponsored by THE OLD BULL INN, a traditional 16th-century inn,  located at 56 High Street, Royston, SG8 9AW and is the perfect place for both rest and rejuvenation. Whether you are staying in one of their comfortable en-suite rooms, cosying up around the open fire with a drink, dining in their restaurant or hosting an event in one of their function rooms The Old Bull Inn is sure to exceed your expectations!