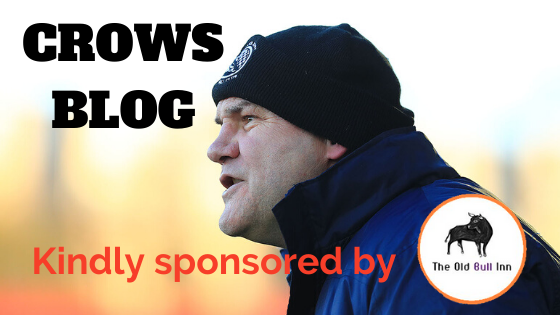 CROWS BLOG: Back to winning ways!
CROWS BLOG: Back to winning ways!
Hi,
It'd been a while since our last league game before last night and securing 3 points was all-important to keep us on the heels of the leading teams. We were a little 'under-strength' with a few players unavailable for various reasons – Muz, Spyros, Ben, Ingers, Ed and big Josh. All were unable to play so it was time to dig deep into our squad and, in fairness, the boys who came in done themselves justice – so all good!
It could, however, have been a different story with us struggling for available players but credit to all of them they got on with it and we got a convincing result against a very competitive team.
Special mentions for me to go to Dan Green and Taylor Parr. Greeno has had to be patient with some of the other lads being in form but he got his opportunity with Spyros not being fit. Taylor is a different story, in as much as he has been incredible in his attitude to get back to full fitness. He has had to be patient also but in another way, a leg break is always serious but mentally it can 'play with your head'. Obviously, Taylor is wanting to get into the first team as soon as possible, and we all want that too, but although he completed a full pre-season, he has missed a lot of football in the interim period that he has been out. We had Taylor in mind to be on the bench last night with Ben Martin and Braths taking the 2 centre half positions but Ben was still feeling his back so Taylor got the call-up. Although probably not quite ready, in my opinion, he performed very well but I'm sure that there's so much more to come from him.
Another quick mention must go to Adam Crowther, Adam is another one that has had to be patient with the amount of first-team football he has had this season. Adam is a young lad with plenty to learn and lately his attitude has been spot on so fair play to him!
So basically it's all good with the players. As I've said before they will probably all be called upon at some stage so to have the majority of them performing at a good standard is great for us.
On to this coming Saturday and we have another really hard match against Hednesford Town. We owe them – they turned us over earlier on in the season. Fortunes for both teams have changed over the season and so we go in as favourites but at this stage of the season the form book goes out of the window and it's down to who is the best on the day! Everyone in this league has the power to turn one another over!
I'm looking forward to seeing as many of you as possible at the game, yet again it's another 'big one'!
Cheers
Steve C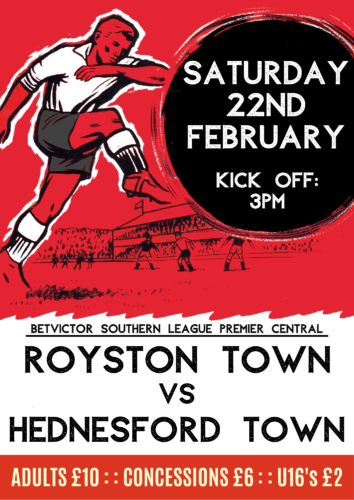 The CROWS BLOG is kindly sponsored by The Old Bull Inn
THE OLD BULL INN, a traditional 16th-century inn,  is located at 56 High Street, Royston, SG8 9AW and is the perfect place for both rest and rejuvenation. Whether you are staying in one of their comfortable en-suite rooms, cosying up around the open fire with a drink, dining in their restaurant or hosting an event in one of their function rooms The Old Bull Inn is sure to exceed your expectations!