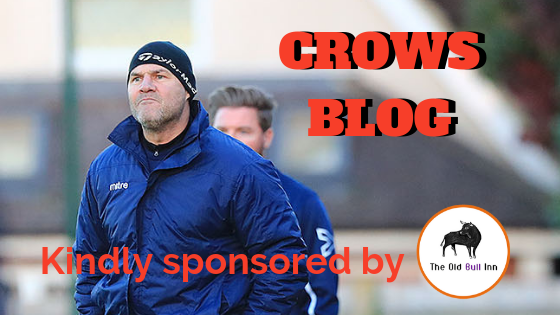 CROWS BLOG: Bragging rights lost!
The CROWS BLOG is kindly sponsored by The Old Bull Inn
Bragging rights lost!
A local derby for me against my home club Bishops Stortford ended up in Stortford beating us 3-1! It's not the end of the world but irritating that we didn't do ourselves justice against a team at the same level 3 status as us.
Fair play to them. They weathered our initial onslaught but we huffed and puffed, without ever really hitting the heights of our weekend performances. Possession wasn't a problem, the quality was!
Unusually, reliable players losing possession in important areas eventually led to our opponents scoring against the run of play and a trend that set the tone for the night meant we tried but failed to match a young enthusiastic Stortford team.
We did equalise through Matt Bateman and then I thought we should have pushed on. Half time came and we made some changes and it negatively affected us more than it did the opposition. We seemed 'flat' after that.
A dubious 2nd goal from Stortford but that led to us taking the foot off the pedal and coasting to a defeat which I, for one, was very disappointed with!!
The second half team were a young bunch but they need to learn, and learn fast, that we NEVER give up! We will get beat and we will get outplayed but we must NEVER NEVER give the game up!!
That said it's pre-season and if these harsh lessons are learned then pre-season will be worth it.
From our perspective, we have plenty of players to come back in. We know we are strong but the League campaign will mean calling on all of our resources and when called upon ALL the boys must have the same mindset!
Cheers
SC
THE OLD BULL INN, a traditional 16th-century inn,  is located at 56 High Street, Royston, SG8 9AW and is the perfect place for both rest and rejuvenation. Whether  you are staying in one of their comfortable en-suite rooms, cozying up around the open fire with a drink, dining in their restaurant or hosting an event in one of their function rooms The Old Bull Inn is sure to exceed your expectations!