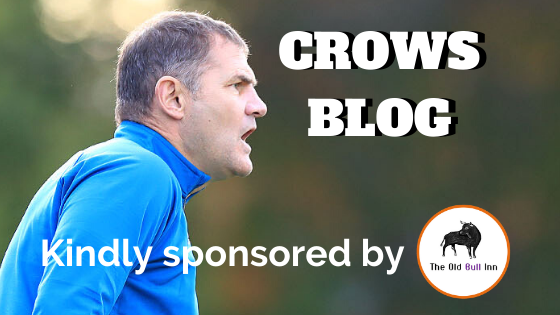 CROWS BLOG: Bring 'Em On!
The CROWS BLOG is kindly sponsored by The Old Bull Inn
CROWS BLOG: Bring 'Em On!
First off my apologies to you all! I missed writing a blog last Tuesday, mainly down to work commitments but to make up for it I'm going to give a comment on both games this week.
Last Tuesday's match against Leiston ended up as a disappointment because we didn't get the 3 points. Although we had a few chances in the game, a few good saves from their keeper but generally finishing wasn't good enough and on that basis the draw was about the right result.
On Saturday against Peterborough Sports, for an hour it was pretty much the same. We had the lion-share of the play and chances but Peterborough always looked dangerous on the break. Once again, a few good saves from their goalkeeper and, for a while,  it did seem like it was going to be a repeat of Tuesday's encounter.  But then a bullet header from Muzza set us on our way! Shortly after that, Claudio Ofosu showed what he can do with an exceptional finish to take us 2-0 up.  Then a superb Matt Bateman header from a free-kick got us to 3-0.
Our only 'blip' was conceding a penalty which I did feel was a bit harsh. Peterborough pulled it back to 3-1 but the boys finished off the display with another finish from Muzza, this time set up by Claudio!
All in all, a great outcome against a very competitive team.
So happy days or so it would seem,  but not quite because to be truthful I'm not happy with how the last few games have been managed by myself.
There have been some 'tough choices' to make and to a degree I've kept all the squad playing and 'happy' but perhaps not true to my own beliefs and probably a generic feeling that win and you keep your place.  I have my reasons for going down the path that I have but am also really aware of keeping to how it should be done so am willing to admit that several mistakes have been made!
It's certainly not been a disaster – 2 wins, 2 draws and no losses – so on the up. We've got some great matches to come, starting with a Herts FA County Cup game against Boreham Wood on Tuesday night at Garden Walk. Then on Saturday, we face the same opposition in the FA Trophy.  With both teams probably not wanting to give too much away, I'm sure the 2 ties this week will be totally different. They are both important in their own ways and both will be treated with the utmost respect by us
So, bring em on!
Cheers,
Steve C
THE OLD BULL INN, a traditional 16th-century inn,  is located at 56 High Street, Royston, SG8 9AW and is the perfect place for both rest and rejuvenation. Whether you are staying in one of their comfortable en-suite rooms, cosying up around the open fire with a drink, dining in their restaurant or hosting an event in one of their function rooms The Old Bull Inn is sure to exceed your expectations!