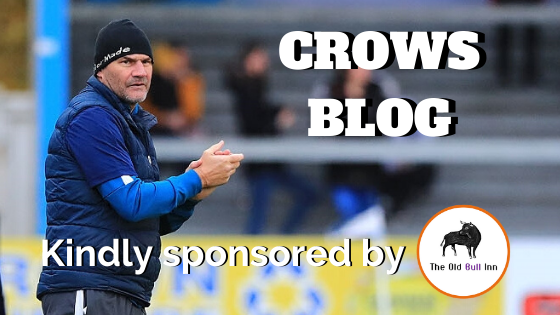 CROWS BLOG: End of season dilemma
Hi guys.
Hope everyone's okay and well?
On the weekend that the season would have ended I thought I'd do another blog to finally sum up proceedings and look forward to next season!
As said today we were due to be taking on Peterborough Sports away. No easy task but obviously before that we, Tamworth, Sporting Bromsgrove and Peterborough would have played some really important games. So this weekend's encounter could have been a title decider or an assurance of where we would go playoff wise!
Of course, none of these scenarios would matter had we lost too many matches but I really do feel that we were on a roll and worse ways we would have stayed in the playoff positions and possibly a title-deciding match.
BUT all assumptions aside I really want to keep everything upbeat because that's what the season was mostly about so why change now!
I don't know if we will or we won't be able to hold an end of season player of the year evening! If at all possible we should at least have a BBQ down the ground or something similar. We'll be sure to keep you all posted if there's any news on that!
I suppose in some ways not having a presentation evening saves me from my biggest dilemma! Who to pick!!!
For me, all of the lads contributed to a fantastic 2/3rds of a season. To pick one out would have been very unfair in my opinion. In every position, they excelled!
Both goalkeepers, Joe Welch and Harry Smart kept the goals against down to 28 which is brilliant. Alongside that, they both heavily contributed in cup runs, notably Harry against Chester and Joe against Ebbsfleet! Well done boys!
Right back. Generally Gus and Ed occupied this role, although we did start the season with a 5 at the back so the role was slightly different and both played, also both went into midfield and performed equally efficiently! So yet again well done boys!
Left back. This position was slightly tricky when the young and talented Joe Newton got whisked away by Coventry City. A little confusion and we got a young lad in to trial in Callum Taylor, he did well but we probably needed another to create competition for the role. Just like a London Bus you get 1 left back in and then get offered another 3! We took on Luke Warner-Eley. Luke was looking to come back to prove a point. He had played in the Conference South with Dartford and he knew he had competition and was happy to take that task on. Within a week we also got offered James Brighton who had been a target of ours for a few seasons. James was at Kettering but not playing as much as he liked. James lives in Royston so we also took him on. Unfortunately, Callum didn't want to take on the challenge and moved on but both Luke and James performed so well. Yet again well done to ALL of you!
Centre Backs. Rather than single out one position I'll count it as 2 although as I've already said we did start with 3, so that's worth a mention. Adam Crowther, Harold Joseph, Ed occasionally, Braths, Ben, Muz and eventually Taylor Parr. All were amazing. So solid whoever played. All of the players mentioned have had different journeys this year but the level of performance they all displayed was so high, it was arguably our strongest area of the field.
Midfield. Harold, Greeny, Bridgeo, Josh C on occasions and Claudio both in the 10 role. As said Gus and Ed also occasionally made an appearance in midfield. Then soon into the campaign, Adam Watkins joined us and with Spyros coming back from Greece late it made for, yet again a very strong, mobile area! Not forgetting a very late arrival in Anderson Pinto and whether we went with a 2 or a 3 in midfield, yet again very strong!
Forwards. Matt, Brandon, Claudio, Big Josh and Josh C and Muz, when needed, was a powerful, hard-working and often productive frontline. Yet again, well done boys. Not forgetting big Ryan Ingrey who although had numerous injuries was with the squad at times!
A mention must also go to Luke Knight and Tom Newman who went to play first-team games elsewhere and flourished when fit.
Well done to the players but let's not forget the staff who have worked equally hard to achieve the same high performance. Chris who has been spot on tactically so often. Aaron who in my opinion is one of the best in his field, certainly at our level and higher. Scott has kept the boy's fitness levels up to the required standard and also worked 1-1 with certain players to 'up their game' and last Tom our very enthusiastic kit man. Boy, he has had some celebrating after games this year!
So now you can see my dilemma. ALL deserve an accolade.
Anyway, not a lot to report on the football side other than both myself and Lewis Endacott have been working on the pitch this week. Only to help out because the normal groundsmen Mick Toovey and Barry Bradshaw are at high risk and have to self isolate. Other than that there's nothing football-related to report sadly.
Obviously we'll still keep in touch and if things change then we can start to look forward more positively than at the moment!
Cheers
Steve C