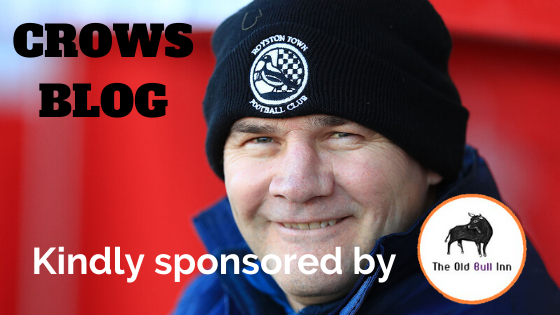 CROWS BLOG: Season highlights
CROWS BLOG: Season highlights
Hi all!
Not sure how many are still following us but I thought it would be good to throw a blog in to remind everyone that there will be life after the lockdown and that us 'Crows' will be back as determined as ever!
Firstly the serious bit! Please, everybody, look after yourselves and your loved ones. It seems so long since regular football was in our lives but there is a bigger picture out there and keeping everyone safe is the priority!
What to talk about? Well, let's try to lighten the mood up a bit and mention the season gone by and the massive achievements made within it regarding the first team. So here are a few of my highlights…
The FA cup run. We did have an easy start on paper, a game at home against Rothwell Corinthians. We dispatched them quite convincingly by 7 goals to 2 but even on that scoreline, Rothwell did themselves proud by putting in a very good performance in.
Just 2 weeks later another FA Cup game, this time away to a lower League team in Balham, who had progressed this far creating history along the way. This tie was a real scare for us and our opponents actually led 3 times in the match, fair play to them, we didn't really get going but we got through it all the same by a 5-3 scoreline.
Next up was a home tie against Beaconsfield, who at the time were bottom of their league. This was one where we were expected to win and although our visitors put on a good show, it was probably our best showing in the competition thus far, winning by 2 goals to 1.
So, up to now although we had got through we hadn't really set the world alight but now a tie at home against a very good Maldon & Tiptree team who had won every match up to then. This was definitely our hardest test yet in the FA cup by far. The season brought us so many highs that it's easy to forget the odd lows but losing to Maldon & Tiptree was certainly a low. I still believe that if we played them 3 times in a row we would have beaten them 2 out of 3 but fair play to them, they got their goals at important times in the match and because our finishing wasn't up to its usual high standards we lost the tie! It was fantastic to see so many supporters at the game, a record crowd of 1152 was amazing. In some ways, this made the result so much more disappointing because the fans had come out to see their local team, maybe for the first time but we hadn't delivered. That really hit home with me!
Cup wise we didn't have to dwell on the defeat for log because the FA Trophy was starting the Saturday after! We started the Trophy with an away match against Brightlingsea who are the same level as us so no easy task. We won the game by the odd goal and our adventure started!
Next up were Haywards Heath, a team from step 4 who we didn't know a great deal about. We were at home and so we were expected to win. No disrespect towards our opponents but our finishing was top drawer and we ended up winning the game comfortably 7-0.
Onto the next round and this was the round the teams from step 2 of non-league football came in. We could not have got a harder draw! Wealdstone away from home. At the time they were, and still are, top of the Conference South. This was going to be extremely hard. The group of players that we have are amazing footballers but only sometimes up to now they didn't believe in themselves as I would like them to. We had a good look at footage of their previous games and fair play to Chris Watters he came up with a game plan that the boys executed to a tee. Although the more cynical amongst us will argue that it was only a last-minute winner that separated the 2 teams, throughout the 90 minutes of play we gave an excellent team problems and our bit of good fortune was in my opinion deserved.
For me, it wasn't just the superb result that came from the match but the BELIEF that came from it! All the lads knew what an incredible result it was and then not only the Trophy matches but our league games were treated in a much more confident manner.
Next up in the Trophy – Boreham Wood, bloody hell, if we had got a few easy ties in the FA Cup then we were certainly not getting them in the Trophy!  Boreham Wood are a fully professional outfit in the National League (Step1). Yet again we approached the tie in a certain way, the Garden Walk pitch was hard to play on but once again we executed the instructions and got a much deserved 2-0 win. This game really saw us all come together! At last, the crowd had something to genuinely get behind. The scenes were amazing! All the kids loving it. As well as the Mums and Dads. It was brilliant.
So now the momentum was clearly with us. We were in the 2nd round of the FA Trophy – further than we had ever been before in both cup competitions. I would love to know how many 'Crows' were tuned into Talk Sport2 on that Monday afternoon but I do know that all of the players were.
Chester at home! An ex-league club coming down to Garden Walk. A match that we would once again be underdogs in but not by that much considering our home form.
The match itself was strange, firstly, we are used to playing uphill first half but they turned us around and I felt that it threw us a bit. Chester were not in a hurry to play and were using every trick in the book to try and slow down play and keep the game at 0-0. Personally, I thought at half time that we had lost our opportunity but boy was I wrong! I believe that that second-half performance was the best the lads played uphill all season. Chester barely had a shot and we got 3 fantastic goals! Yet again the celebrations were immense – the Crows were in full swing!
Everyone was buzzing, even more tuned in to Talk Sport 2 again the following Monday and this time we were greeted with an away tie to yet another professional set up in Ebbsfleet United! The game was a couple of weeks away so we had league matches to play and they were coming thick and fast – Saturday, Tuesday, Saturday. In general, some great results but 1 negative a 2-0 loss to Tamworth but other than that our consistency was amazing!
So little old Royston Town had made the last 16 of a National Cup competition – beating 3 higher-ranked teams than us, now for another! Although in step 1, Ebbsfleet were not having a good time of things. They were in the relegation places but, that said, they had knocked out high flying Kings Lynn of the National League North in the previous round. Our approach? The same as ever, a tactical meeting, a game plan that was to be executed by the brilliant set of players. The game was 'scruffy' to say the least.  There was plenty resting on the match for both sides so no-one wanted to be the one that made the mistake. Into extra time and very little between the teams. Some of our boys were getting very tired so changes were made. Big Josh Oyinsan came on and almost immediately made an impact by putting us 1-0 up.  All of our boys were getting very tired and our hope was that we could hold on!
Ebbsfleet pushed but our back 5 were awesome. Brandon Adams had one chance and unfortunately missed but then made amends by some quick thinking by taking a quick throw, setting Matt Bateman free to score another and to seal the victory in the closing minutes. Cue mayhem! All the supporters that had made the trip to Kent were rewarded by scenes that we have not witnessed away from Garden Walk before!
The victory meant that we were through to Quarter-Finals of the FA Trophy! The Quarter Finals! The last 8!
Now another wait to to see who we were going to get in the draw on the Monday.
Concord Rangers was the answer. Away. At home, I'd have been as happy as anything but playing away was a worry. Trophy fever was very much around but fair play to the players, they carried on as if nothing special was happening and produced 3 home league wins that kept us well in it in regards to the League.
The Quarter-Final came around but was called off on the Saturday due to a waterlogged pitch – much to the disappointment of everyone not least the amazing 6 coachloads that followed us to Canvey Island. The game was rearranged for the Tuesday night and this time it was a 'bridge too far'. It was very close but it wasn't quite our night. The game went to extra time but on this occasion they got the winner and we run out of energy. So close but not quite.
Due to the circumstances of Covid19 we only played one more League match, beating St Ives 5-0. Obviously no FA Trophy hangover from us but then everything stopped!
I appreciate that there were a lot of teams that have been affected badly, even more so than us. Maldon & Tiptree, South Shields and Halesowen in particular, to mention just 3, but we feel very hard done by.  To say that nothing has come out of an unbelievably positive season will be such a shame. As people have reminded me it's only football and in the grand scheme of things they are correct but rather than talking about doom and gloom scenarios, rather we talk about, choices or decisions being made that are not only not fair but also elitist.
Cheers and please keep safe,
Steve C
The CROWS BLOG is kindly sponsored by The Old Bull InnTHE OLD BULL INN, a traditional 16th-century inn,  is located at 56 High Street, Royston, SG8 9AW and is the perfect place for both rest and rejuvenation. Whether you are staying in one of their comfortable en-suite rooms, cosying up around the open fire with a drink, dining in their restaurant or hosting an event in one of their function rooms The Old Bull Inn is sure to exceed your expectations!