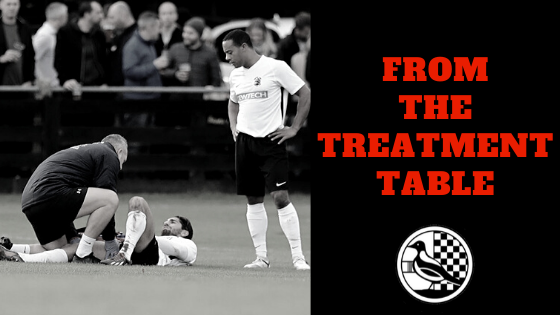 FROM THE TREATMENT TABLE
FROM THE TREATMENT TABLE
Royston Town FC Injury Data
Comparison of injuries sustained from between seasons 2018/19 and 2019/20
| | | | | | |
| --- | --- | --- | --- | --- | --- |
| Injury Type | 2018/19 | 2019/20 | Average time lost (days) over last 2 seasons | Injury % Up/Down | Comments |
| Concussion | 1 | 2 | 20 days | 100% Increase | This seasons episodes of concussion have occurred outside of football but been managed within the club. |
| Shoulder (Rotator Cuff) | 1 | 0 | N/A | 100% Reduction | Non – football related. Brought on through repetitive loading at work. |
| Groin/Hip Pain/Tendinopathy | 4 | 2 | 15 days | 50% Reduction | |
| Quad/Hamstring Strain | 6 | 2 | 19 days | 66% Reduction | |
| Calf Strain | 1 | 2 | 4 weeks | 100% Increase | Lack of calf strength identified as risk factor |
| Knee/Ankle Injury (Cartilage/Ligaments) | 16 | 1 | 18 days | 94% Reduction | Huge difference – Single leg strength and balance work has paid dividends |
| Lower Limb Contusion | 1 | 1 | 4 days | No change | |
| Fracture | 0 | 1 | 4 months | 100% Increase | 4 months was until RTP but return to training was achieved within 12 weeks |
| Lower Back Pain | 4 | 2 | 12 days | 50% Reduction | 4 out of the 6 incidents of LBP over last two seasons were non – football related. They occurred through repetitive movement at work |
| Total | 31 | 13 | 233 days | N/A | N/A |
What have we done to reduce the incidence of injury and increase recovery times?
From the information shown in the table above, we can see that in the 2018/19 season we, unfortunately, suffered many lower limb injuries. Our most common injury site was ankle ligament sprains and hamstring strains.
Prior to the start of 2019/20 season, Scott Taylor (Fitness Coach) and I looked at the most common injuries and discussed strategies to try to reduce the number of injuries we were picking up and if we did gain injuries (which is inevitable) what could we do to improve on injury recovery times – basically how quickly could we return players back to the first team.
Therefore, since pre-season, the players have taken part in a preventative circuit at least once per week but where possible we aim for two sessions per week. This circuit was based around the FIFA 11+ program which is an evidence-based program that is used worldwide to reduce the risk of injury in footballers of all ages and levels. Scott and I altered this slightly based on the data from the 2018/19 season. These sessions aim to strengthen the players in areas where we had identified common injury trends and imbalances, this coupled with Scott's Strength and Conditioning sessions have really assisted in reducing our rate of injury as the players are more robust and their bodies can better tolerate the load that a heavy season puts on them. The sessions have also helped in reducing rehabilitation time frames – meaning that when a player does get injured, we are able to return them back to the first team quicker than in previous seasons.
If we take the data above and compare this to professional football, we aren't too far off with our 'Return To Play' (RTP) timeframes, for example in the pro game an ankle sprain takes on average 14.9 days to return back to training, whereas with Royston we're currently looking at around 18 days as an average. Another key area and commonly injured muscle group in footballers is the hamstring, in professional football, players return in an average of 18 days and we've been fortunate enough to get these injuries back in around 19 days. As a team, we feel really proud that we have been able to reduce our RTP timeframes on reduced weekly contact time when compared to professional footballers.
I feel that we're very lucky in that most of the boys take care of themselves outside of football and have decent levels of fitness.
When we have had injuries, we've been fortunate that Ryan Ingrey was able to get us into the local leisure centre and I have been pleasantly surprised in seeing how strong some of the boys are in the gym.
From the staff's perspective, this is really useful as it shows how much the boys want to be involved; this has made for good competition for places throughout the season.
In addition to the active side of prevention, we have also tried to educate the players on recovery strategies between games, such as active recovery the day after matches, correct nutrition and hydration and the importance of having at least 7 hours sleep per night. Research shows us, that athletes or people who get 7 hours plus sleep per night were 50% less likely to suffer from an overuse injury, so we have tried to instil this into the players.
I appreciate the restraints we have on ourselves with being part-time but Scott and I always try and look at the latest evidence around Injury Prevention and recovery strategies and implement them in everything we do, to try and give the boys the best platform that we can. All the players are great and a pleasure to work with and although they may moan from time to time, they take everything on board and put in a great deal of hard work. Along with all the technical work that Steve and Chris do with the boys on the training pitch, I think we can all see how this contributed to the season we've had.
Steve, Chris, Scott, Lewis and I will take this data and look at ways we can reduce our injury rate further for 2020/21 and beyond. Injuries are unfortunately inevitable in football but if we can keep pushing the boundaries and have a bit of luck too, we can do our best to ensure that we always have a strong 11 out on the pitch week in, week out.
Scott and I are just a really small part of all the brilliant things that go on behind the scenes at Royston Town Football Club and I hope that this article gives you a little insight into some of the work we do.
We're all really missing the football like I am sure you all are. Hopefully, this virus can pass quickly and we can all get back to enjoying being part of Royston Town Football Club in the not too distant future.